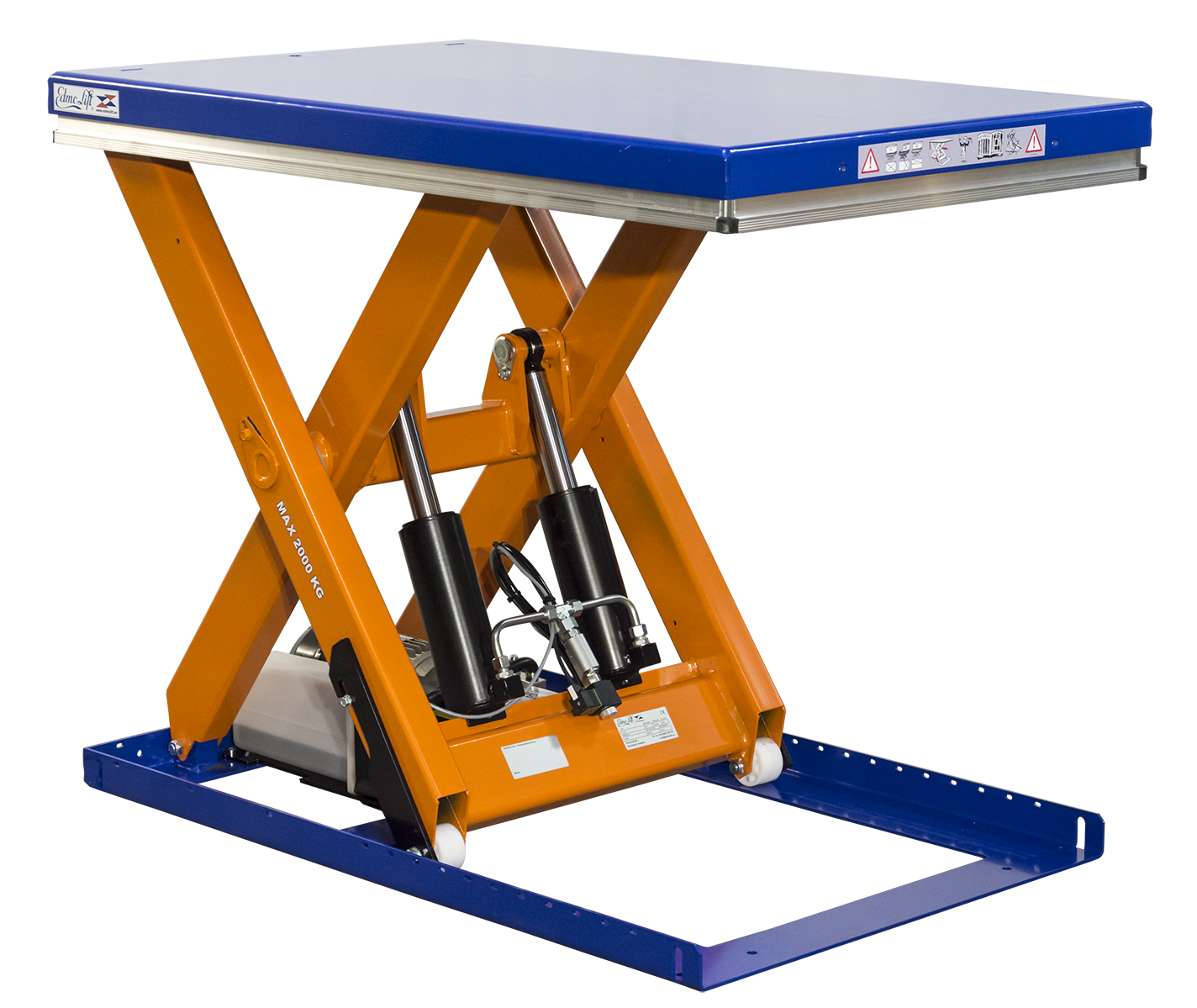 Our standard lifting tables are robust and durable and are also ideally suited for heavy industrial use
We call standard lifting tables hydraulic lifting tables, which can be displayed in the catalogue without accessories or ordered in the shop. There are models here with single scissors, horizontal or vertical double scissors and even with vertical triple scissors. All these lifting tables can be equipped with our extensive accessories, for this you can contact us via contact form, mail or telephone.
Our robust standard lifting tables in a class of their own are not only available in standard dimensions, but are also available in any desired size. Due to the modular design (base frame, scissor arms and platform), they can be easily adapted to specific needs. Send us your requirements and we will check the possibilities.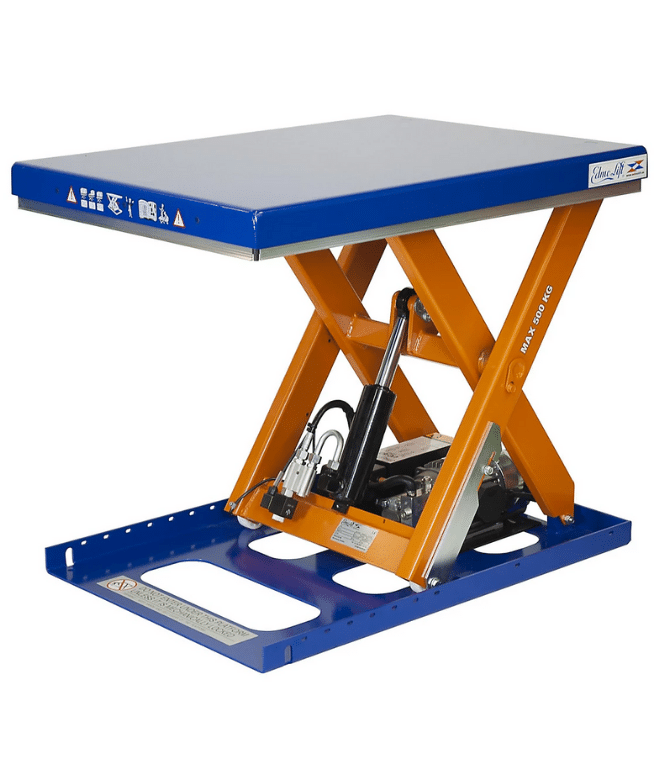 The classic standard lifting table with single scissors
This product type is certainly the largest of our product range. As the name suggests, this type of lifting table has a gap between the base frame and the platform. Due to this design, the lifting height is always dependent on the platform length, as the scissors in the lower lifting position must always fit under the platform.
The single scissor lift tables are available with many different platform sizes, load capacities and lifting heights and are therefore used in many areas of companies. The hydraulic lift tables can be used to simplify, accelerate and make work processes more ergonomic. Likewise, employees are relieved and sick leave is reduced by incorrect lifting.
In the standard range, single scissor lift tables with a payload of 500 kg to 10,000 kg can be supplied. In addition, we offer our special lifting tables . These are based on the classic lifting tables and are equipped with larger payloads, other platform dimensions or extensive accessories.
Top seller of this category is certainly the Euro pallet lifting table. This has a platform size of 1300×800 or 1300x1000mm. As a result, Euro pallets can be ideally picked up and lifted. In this version, there are payloads of 1000 kg, 2000 kg or optionally 3000 kg.
The standard lifting table with horizontal double scissors
These standard lifting tables consist of two mechanically synchronized scissors, which are positioned next to each other under the lifting table platform. This construction method is used when long goods have to be lifted. The platform here is significantly longer than with single scissor lift tables, but due to the two scissors used next to each other, the lifting height is about the same as with a classic lift table. The advantage, however, is that the overall height is lower and raises the platform evenly.
With these so-called tandem lifting tables, various platform sizes and payloads of up to 10,000kg are also available. Special requests can be fulfilled here at any time.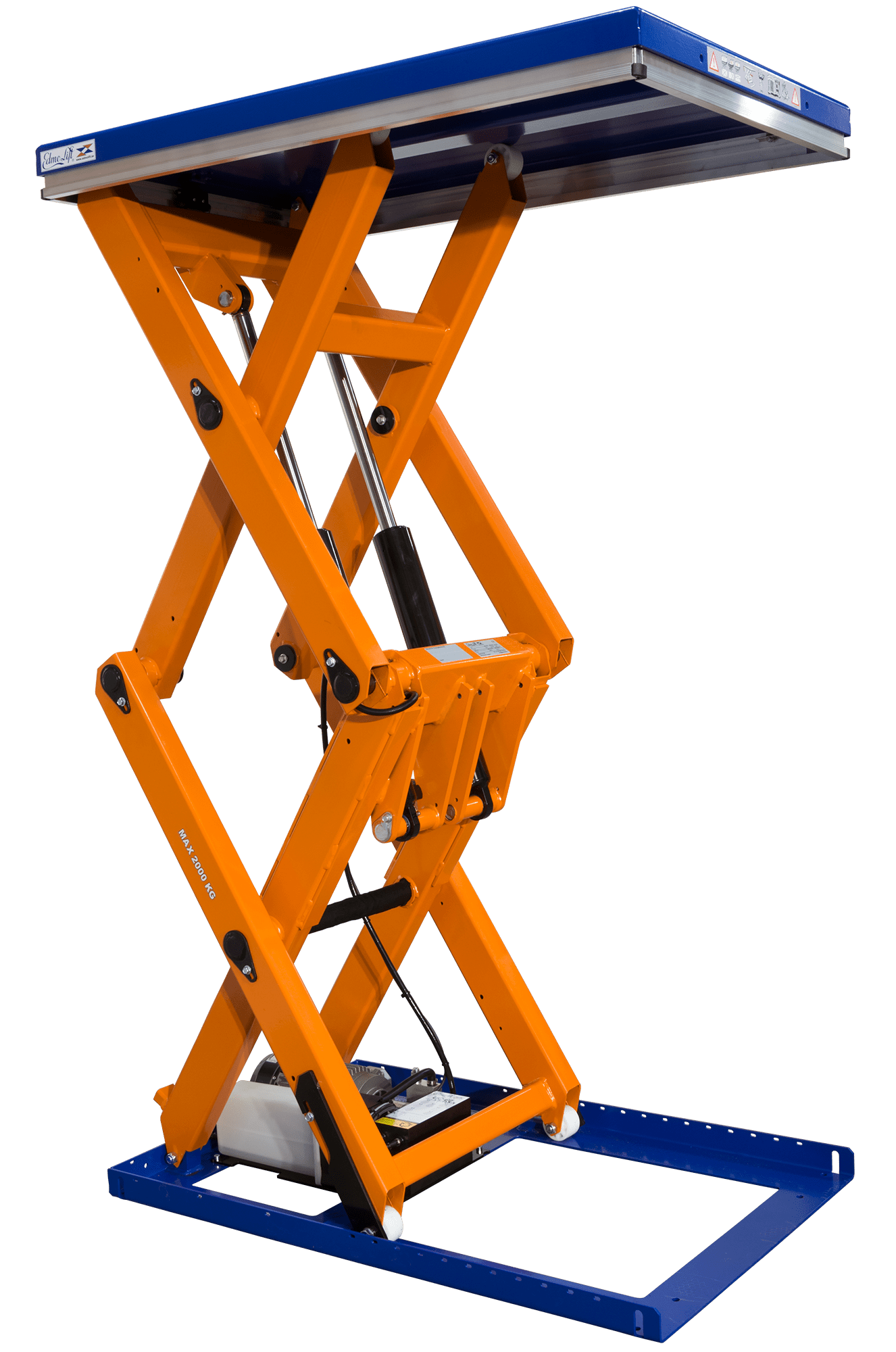 Standard lifting table with vertical double scissors – Triple scissors - Quadruple scissors
Vertical double scissor lift tables consist of two scissor packs on top of each other. These vertical lifting tables are ideally suited to transport goods to a higher level.
Due to the two or more scissors arranged on top of each other, this lifting table type allows the achievement of higher levels, despite a small and compact platform. Due to this construction method, however, a larger height must be planned.
These double scissor lift tables are often used to transport goods or pallets to the next floor. With these freight elevators, however, additional safety technology is necessary, which we can also offer optionally.
With a very high number of strokes or in cycle operation, our standard lifting tables must be upgraded accordingly. This is where our HD series comes into play.
With this upgrade, the lifting tables can be used in automatic systems or before or after machines for stacking. In such applications, it is important that they inform our technicians exactly about the use, so that we design the lifting table in such a way that it fulfills the function for a long time and safely.