Special lifting tables are suitable for every application
Standard lifting tables quickly have their limits as they are often not suitable for the respective application. That's why we have specialized in ideally implementing the requirements and wishes of our customers with our industrial lifting tables. No matter what application, what load capacity, what size or what structures are required – our technicians will be happy to advise you and create the perfect lifting table offer.
Our classic lifting tables cover a wide range of platform sizes. Nevertheless, there are always requirements to adapt the lifting table platform to special circumstances. Very long platforms up to 20 meters, very wide lifting table platforms up to 4 m, but also extremely small platforms such as. B. 500 × 400 mm are available.
Our standard range includes lifting tables up to 10 tonnes. However, this high load capacity is often not enough, which is why we also offer special lifting tables with a very high load capacity. Depending on the application and the size, there are hardly any limits. These heavy-duty lifting tables are extremely robust and solidly built so that they have a long service life despite heavy loads.
Our technicians welcome any request for a lifting table with special dimensions or special requirements. Do not hesitate and contact us at any time.
We have implemented countless special lifting table designs. Built and designed to last.
Special lifting table with extremely high load capacity
The customer often only has a very small area available, but extreme loads still have to be lifted. With this installation we had to lift 16 tons on a platform of only 1500 x 800 mm. Only our experienced designers were able to develop a unique scissors design to meet the customer's requirement.
Car lifting tables for special values
We not only lift pallets and goods to the next floor, but also your vehicles. Our special car lift tables are designed for transporting rolling loads between two floors. The bolt lock for the upper stop ensures that it can be driven on without deflection and additionally secures the platform. The elevator control ensures a safe and trouble-free process. Our car lifts are not approved for passenger transport and can be manufactured in all possible sizes.
We are also happy to offer shaft, sectional, roller or swing gates and carry out the installation on site.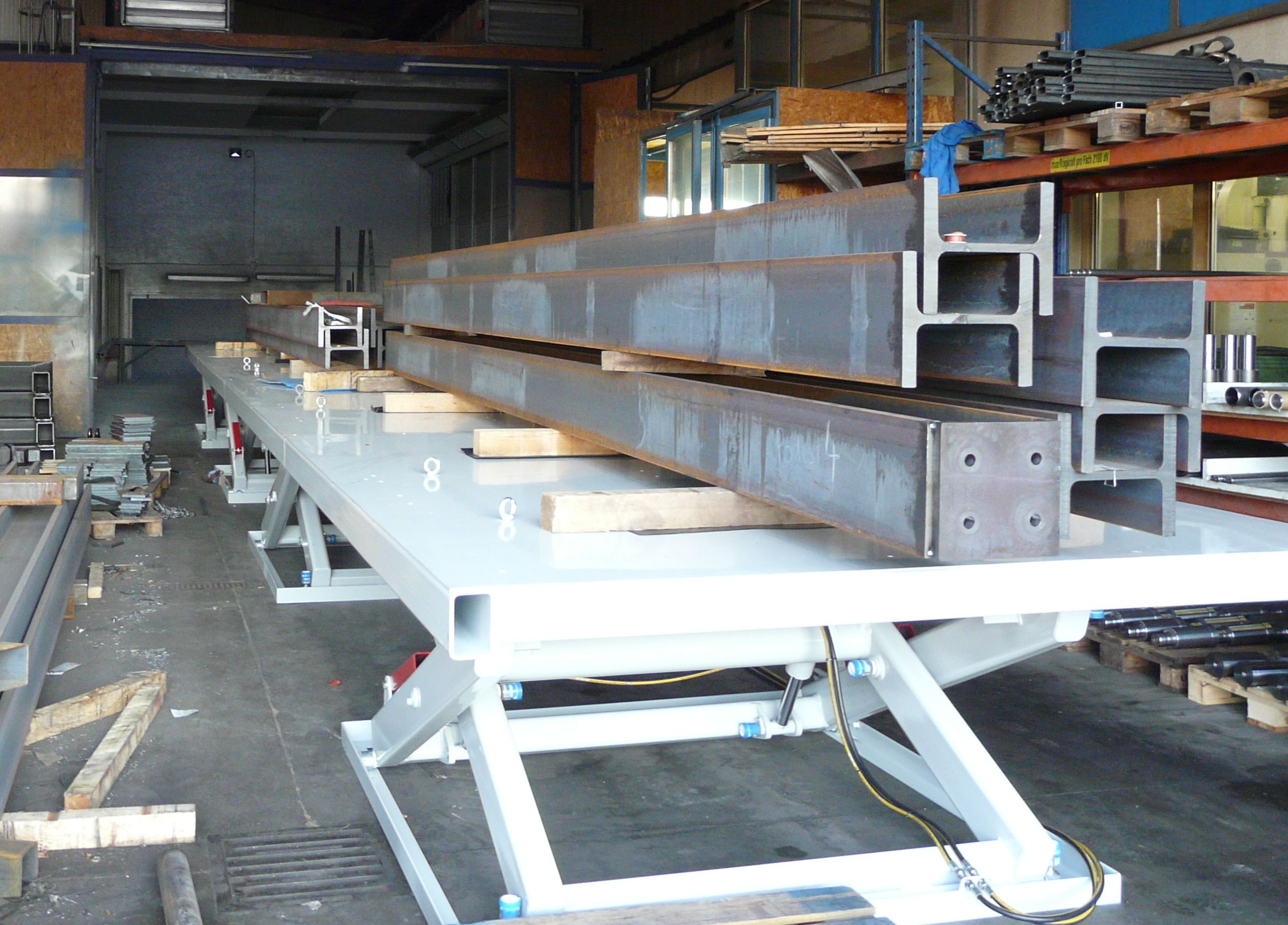 Very long lifting table for the wood industry
If it has to be longer! We can also produce our lifting tables with very long platforms. In this project, 18.5 tons of load had to be lifted on a 15m long platform.
With the help of our technicians, we have found a solution with 4 scissor packages, which move up synchronously via a flow divider. In addition, lifting tables are in great demand in the wood industry, so we had to build them extra stable.
There are many special forms of scissor lift tables, which we can supply in all sizes. Here are some examples with a short explanation:
ATEX lifting tables are special versions for explosion-proof environments. For ATEX lifting tables, we always recommend that the unit be set up outside the protected area.
are set up in conveyor systems or before and after machines. These lifting tables are characterized by the fact that they are designed for cycle operation. When procuring such a system lifting table, it is important to state the number of upward strokes or short strokes. We are also happy to equip these lifting tables with a roller conveyor, a chain conveyor, ball rollers or other structures.
are lifting tables for the transport of people. Products or systems often have to be processed at a greater height. This is where our aerial work platforms are used, as they are significantly safer than ladders. This type of lifting table can even be equipped with a platform that can be moved sideways, i.e. the platform can be extended. Our special lifting tables in this category can also be used as height-adjustable work platforms in front of machines so that all employees can work at a comfortable working height.
are becoming more and more modern. Space in cities is getting tighter, so cars have to be parked in the basement or on another floor. We offer our car lifts as a shaft solution with gates, as a retractable garage with a roof on the platform or as a combination of these two designs. We are also happy to carry out the planning, assembly and acceptance for you.
Column jacks are used when the platform size is relatively small in relation to the useful lift and a pit cannot be built. The platform moving on the lifting mast allows very high lifting heights to be achieved and goods can be transported to the next floor.
Lift tables with integrated rotating plate. It is often not enough to just lift your goods, as they also have to be rotated up to 360°. Here we offer rotating lifting table platforms in all sizes. The pallet or grid box can be rotated in the desired direction and fixed there.
Mobile lifting tables are used when the product needs to be processed in more than just one place in the company. We can offer our lifting tables with classic wheels, a rail chassis or with other drive types based on customer requirements.