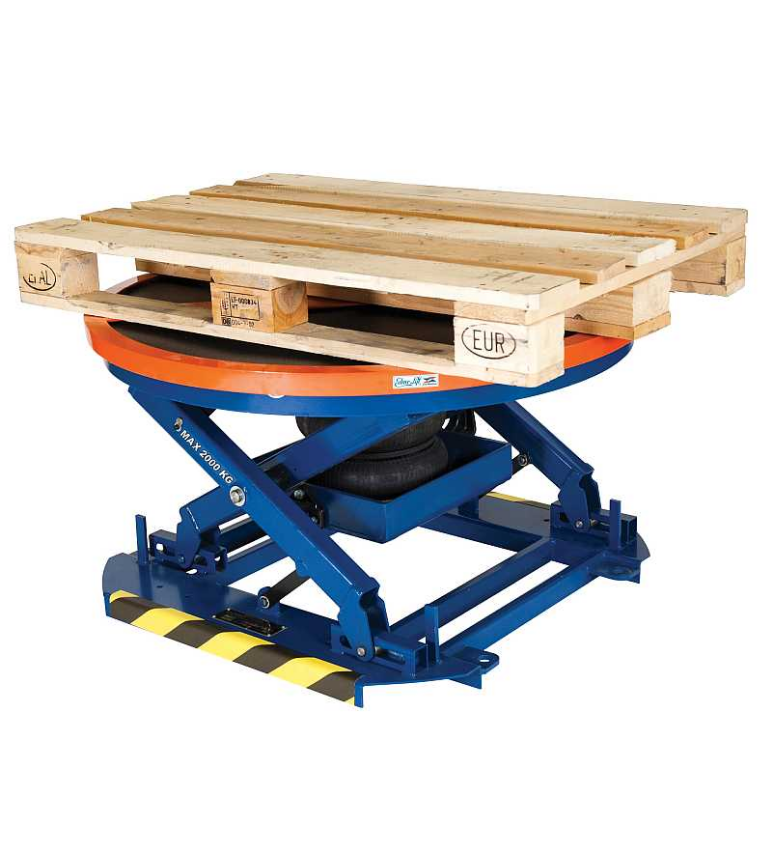 Pneumatic lift tables: Fast infinitely variable height adjustment is achieved by pneumatic drive
In the case of pneumatic lifting tables, the height is not adjusted by hydraulics as in the standard lifting tables, but by compressed air. Depending on the version, this is done with a bellows or a cylinder.
With the car level device PL 2002, the air pressure in the bellows under the platform is adjusted once, after which the air connection can be removed. By adding the weight through the products, the table lowers further and further downwards. If you remove the weight again, the table automatically lifts again.
Thanks to this function, the worker does not have to constantly adjust the height at the push of a button and thus saves time and money.
The second form of pneumatic lifting tables are our upholstery lifting tables from REXEL. Here you can adjust your ergonomic working height at the push of a button. As the name suggests, these pneumatic upholstery lifting tables are very often used in furniture production. These lifting tables can be supplied without a platform cover, with a steel plate but also with a soft upholstery platform. Extensive accessories such as a turntable, a fixation, brake cylinders, safety strips and much more are also available.
Pneumatic lift tables are all-rounders
Further pneumatic lifting tables for viewing