Mini lifting tables are little helpers in every workshop
Mini lifting tables function in the same way as standard lifting tables, but they have a lower load capacity and are significantly smaller. These extremely small lifting tables or small lifting systems are used in furniture construction by furniture makers and carpenters, for example. B. to make a bread machine, a safe, etc. disappear into a piece of furniture. It is important that the lifting area must always be shielded on site so that you do not get injured during the lowering process.
Quiet operation is very important in these applications, as they are often used in living spaces. The plug for the 230V power connection fits into any socket. The mini Lifting tables are delivered fully assembled and ready for connection. Unpack, plug in and get started.
We supply a rocker switch on a 1.5 m long cable as standard. However, you can get an infrared or radio wave remote control as an option. The delivery also includes 2 sockets which can be attached to the device or in the surrounding area.
Our mini lifting tables are equipped with a stable spindle drive. Thanks to this special drive, the lifting table is not only quieter than its hydraulic colleagues, but also cleaner, as no hydraulic oil is used.
In addition to the series models for furniture construction, we also offer mini lifting tables in special construction. These lifting tables with a very short and narrow platform can also be manufactured to customer requirements and adapted to special requirements. To do this, send us an inquiry with all your requirements and we will check the options free of charge.
Our mini lifting tables have a very small design and have a long service life
Mini lifting tables are super flexible
Mini lifting tables are intended for installation in furniture. This means they have a very low base height when folded. The external dimensions are also very compact so that the space in the piece of furniture is not wasted. The lifting area must not be freely accessible as these furniture lifting systems do not have a safety edge.
Used anywhere where something needs to be hidden in furniture
Our mini lift tables can also be supplied with double scissors so that greater lifting heights can be achieved. This is necessary if the product to be lifted is larger and still needs to be completely hidden in the piece of furniture.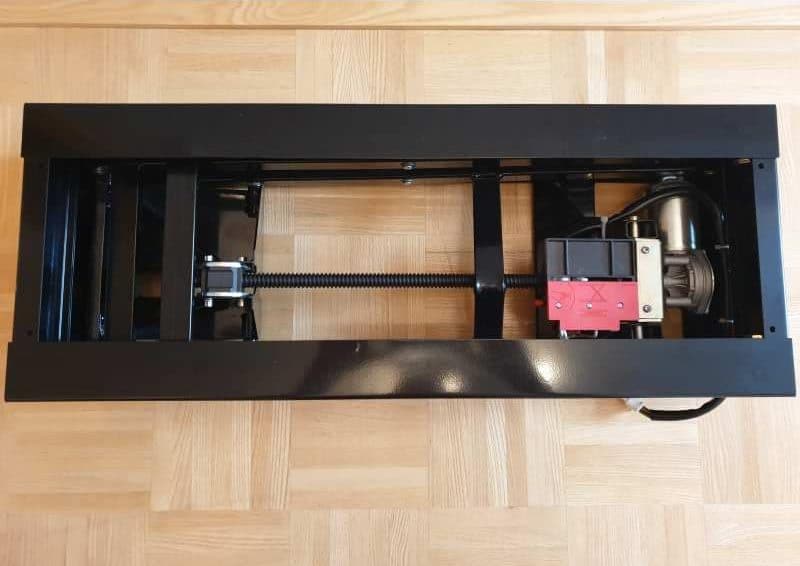 Mini lifting tables are often used in the furniture industry
Thanks to the very compact design, we create a lifting solution in the smallest of spaces. The motor including the very quiet drive spindle is located inside the lifter. The electronics are attached to the side of the base frame. We supply the small lifting systems with a rocker switch as standard. We can also supply radio remote controls as an option.
More mini lifting tables to view
If you have any questions, please contact us immediately Contact on. We are happy!