Robust flat lift tables of the highest industrial quality
Flat-form lifting tables or flat lifting tables are, as the title suggests, flat lifting tables which, when retracted, have a very low overall height and are only 80-100 mm high. Despite the low height, all models have a circumferential safety strip as crush protection under the platform and comply with the applicable lifting table standard EN1570-1.
The big advantage of these robust flat-form lifting tables is that you can place your pallets on the platform without a pit. For flat-form lifting tables with a closed platform, you can optionally order an access ramp for the pallet truck. With the U-shaped models, you can drive between the legs with a pallet truck or pedestrian stacker and place the pallet down. The unit including the control is always located outside on a 3 m cable on flat lift tables.
Thanks to our numerous flat lift table models, some of which we even have in stock, we can offer a very reasonable price. Don't hesitate and buy your perfect flat lift table from us. The C models are usually in stock and can be shipped within a few days, but they are only available in the standard version. The T models are always produced upon customer request and can be equipped with accessories.
We are happy to offer special solutions for flat lift tables. Regardless of whether a larger platform, more lift or a higher load capacity is required, we will be happy to provide a free offer for your low lift table .
Accessories such as turntables, railings, ramps, protective roller blinds, bellows or chassis are available on request.
Our flat lifting tables are robust and durable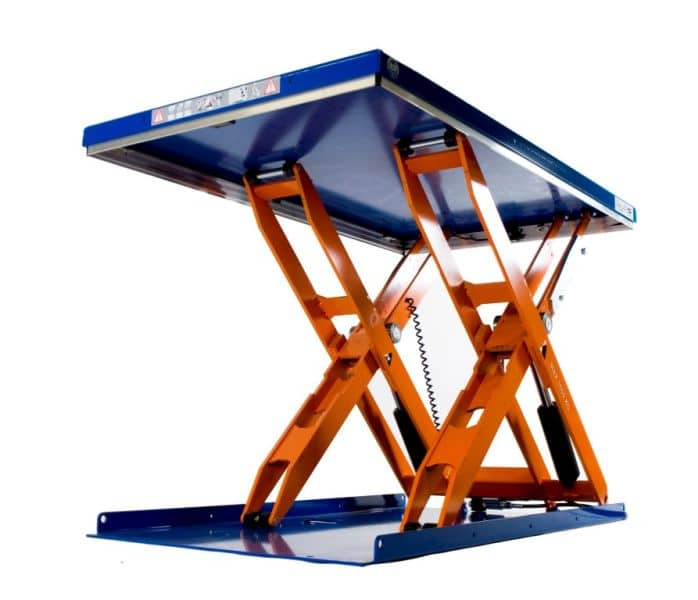 Flat lifting table with closed platform
Flat-form lifting tables can also be used for people with disabilities or when caring for people with restricted mobility.
with a closed platform are designed like classic single scissor lift tables. Due to the very flat scissor assembly, however, significantly lower overall heights of between 80 and 120 mm can be achieved. So you only have to build a small pit or order a ramp when loading with a lift truck at ground level. The construction costs or the price of the ramp are usually significantly cheaper, so that a flat lifting table pays off.
U-shaped flat lifting table
The most purchased flat lift table is certainly the U-shape lift table. The big advantage here is that the platform has an open area in the middle into which the forks of the pallet truck fit. In combination with the low height, you can simply place a pallet on the lifting table with a pallet truck without having to build a pit.
The U-shaped flat lifting tables are available in the standard range with 1000 kg (model TUL 1000) and 2000 kg (model TUL 2000). However, we also offer many special solutions in the area of flat lifting tables.
The cheapest model is the CUB 1000 with a load capacity of 1000 kg, platform dimensions of 1450 × 1085 and a lifting range of 80 to 800 mm. This model is also mostly in stock and therefore has a short delivery time. The only disadvantage is that the permitted number of strokes is a maximum of 4-6 strokes per hour, which is well below the TUL models.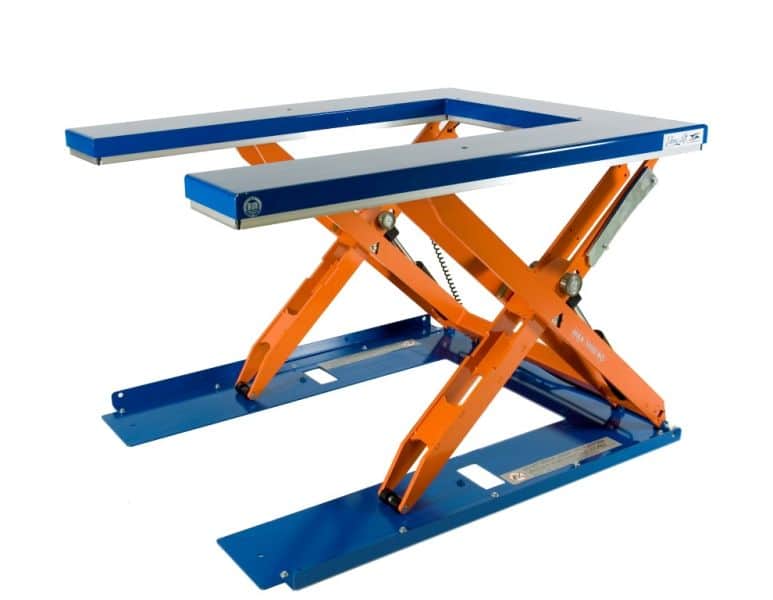 Flat lifting table with E-shape
Back pain is one of the most common reasons for illness-related absences in logistics. On the other hand, maintaining a healthy posture at work and not lifting heavy objects helps. Our flat-form lifting tables help!
The flat E-shaped lifting table has the advantage that the middle bar of the pallet also rests on it. This is often used for unevenly loaded or disposable pallets.
Here we have the TUB models with a load capacity of 600 kg in our range. Other dimensions or lifting loads on request.