Accessories for lifting tables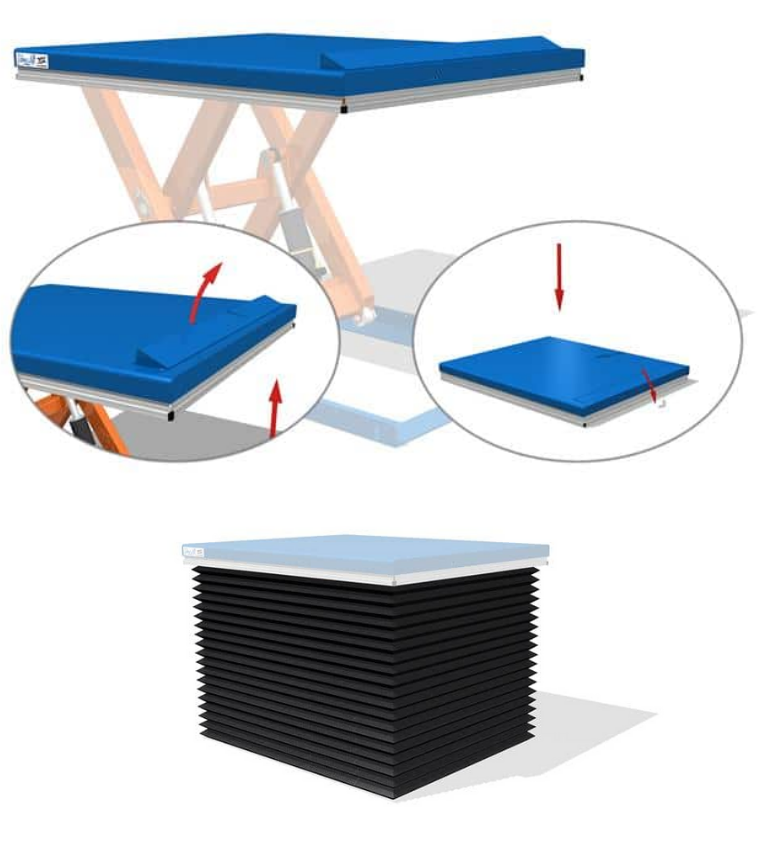 All our products can be equipped with extensive accessories to facilitate their work or increase the safety of their employees.
Many options are suitable for retrofitting scissor lift tables, but some must be taken into account when ordering the lifting table.
Accessories are necessary for lifting tables when the standard version is no longer sufficient. Sometimes you need additional equipment because customer requirements demand it, but often also because the lifting table standard EN1570-1 requires it. Trained personnel is therefore absolutely necessary so that every procurement can be delivered exactly according to standards. Our technicians are constantly trained on the news from our partners.
Accessories for our lift table models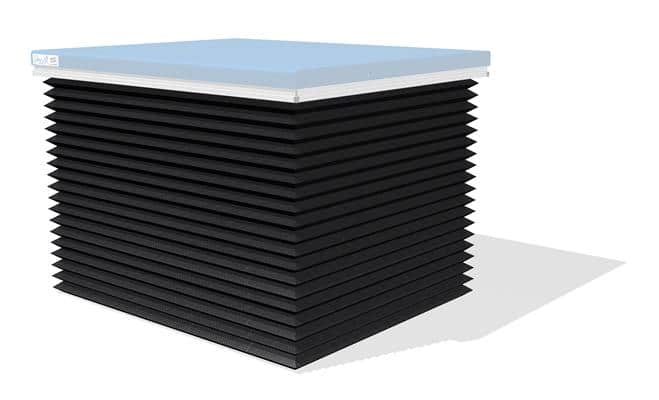 Bellows as underflow protection
The best alternative to PVC roller blinds or protective grilles is the circumferential bellows. This is installed under the platform behind the safety strip.
A bellows protects not only the operator, but also the scissor mechanism and hydraulic cylinders from environmental influences and dirt. A bellows can also be retrofitted, but the space requirement must be checked by the customer – our technicians will be happy to advise you on this.
Lifting table with turntable
If it is not enough to lift your goods or product up and down, our turntables are used. These rotary platforms can be built on almost all lifting table models and make it possible to manually rotate your product by 360°. Shown here is the round turning platform, which does not protrude beyond the actual platform, so that the lifting table can be raised or lowered in any rotational position. In the case of angular rotating platforms, the lifting table only lifts if the two platforms are congruent.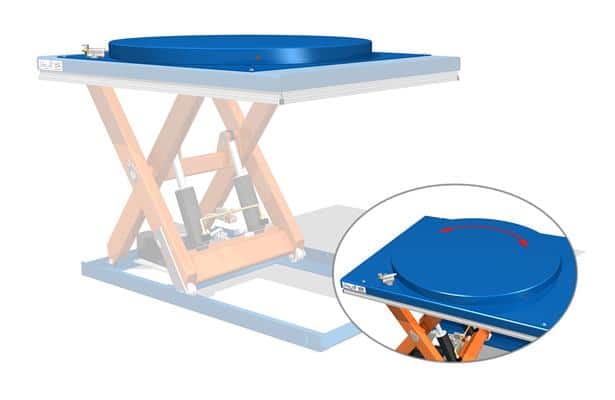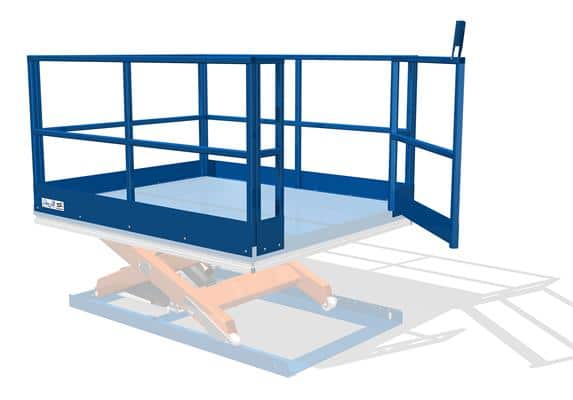 Whenever lifting tables can be entered and the lift is over 500mm, the platforms must be equipped with fall protection. We always use our sturdy railings and gates here. These can be welded, screwed or even pluggable. If a manual backup from the gate is not enough, we can also equip it with an electronic contact. Lengths and shapes of the railing on the lifting table can be individually adjusted.
Almost all lifting table models can be equipped with our accessories:
Wheel base under the base frame, lifting table is therefore movable and not tied to a place of work.
Lifting table with battery operation or UPS.
Pallet truck device under the base frame, so you can move the lifting table with a classic pallet truck, drawbar stacker or forklift.
Platform cover plate with tear plate as slip fuse. Used for lifting tables that can be entered.
Limit switch or stroke limit switch for setting the upper stroke position. If the lifting table at the upper stop should always stop in the same position, this accessory is used.
Loading flaps for easy loading and unloading of flatbed trucks or trucks. Available manually or hydraulically. Loading flaps bridge the gap between the vehicle and the lifting table.
Attachment bolts for the lower stop, which ensure that the scissors are relieved during loading and the service life is increased. These mechanical supports can also be adjusted in height or ordered with rubber buffers to reduce noise.
Railings and gates on the platform as fall protection. The pallet or goods are placed on the lifting table when extended, so that it cannot fall down, this accessory is selected.
Special operating elements such as e.B foot switch, radio remote control, key switch or wired on terminal block for a customer-side control.
Lifting eyelets for easier assembly and convenient transport. The round eyelets are screwed through the platform into the base frame, so you can easily transport the lifting table with crane or forklift and lift it into the pit.
Round and square turntables, which are mounted on the lifting table platform. With these rotating platforms you can turn your lattice box or pallet into a comfortable working position.
Rail chassis are used when the lifting table has to be moved along a straight line.
Extendable lift table platforms are usually used in aerial work platforms to make it easier for employees to get to work.
Reinforced platforms for the passability of scissor lift tables in the lower lifting position. With this version, even semi-trailers can drive over the lifting table without it bending.
Protective grille or mesh shirt as underflow protection under the lifting table platform is possible on all 4 sides.
PVC roller blind, protective curtain, carpet or curtain under the lifting table platform.
Bellows as protection against dirt all around under the lifting table platform.
Roll-off fuses, mechanical or hydraulic, ensure that transport equipment does not roll off the platform.
Bolt locking against springing when loading at the upper stop. We use this mechanical locking especially for lifting tables that connect two floors with each other.
Scale integrated in the lifting table base frame, so you can not only lift your goods, but also always have the weight in view.
Ramps on flat lifting tables are there so that the pallet can be placed on the platform with a pallet truck.