Hydraulic single scissor lift table
Scissor lift tables with scissors
"With this scissor lift table you can easily lift Euro pallets weighing up to 2000kg!"
The most commonly used lifting tables are simple, but at the same time powerful and versatile Single scissor lift tables. These lifting tables are available in many different designs, all of which are equally robust, stable and ergonomically designed. Lift tables are often used as an aid to material handling directly in the industrial hall or as a loading platform outdoors at the loading ramp. Also as a lifting aid next to a machine or in the warehouse for ergonomic loading and unloading of pallets.
Many different designs and models in the standard segment with load capacities between 500 and 20,000 kg offer the right one for every requirement lifting table. We find a large number of users not only in industry, but also in distribution warehouses, shops and various service facilities.
With single scissor lift tables, the achievable lifting height must always be seen in relation to the platform length. The longer the platform becomes, the higher you can lift with this type of lifting table. The height depends on the design or type of scissors. Flat scissor lift tables start at a height of 80mm, go to loading lift tables with 500mm and end with massive heavy-duty lift tables at up to 1200 mm.
The classic Euro pallet lifting table
On this hydraulic pallet lifting tables Using scissors, Euro pallets or mesh boxes are placed next to a workbench or machine. The worker can remove or put down workpieces at an ergonomic working height. This simplification of work saves money on the one hand and prevents sick leave due to back pain on the other.

This Pallet lifting tables Most have a platform size of 1300 x 800mm for the classic Euro pallet or optionally 1300 x 1000mm for disposable pallets. The most commonly used load capacity is 1000 kg, although 2000 kg or 3000 kg are also available in the standard range.
Special equipment is also welcome for such simple applications. The standard operation is a manual button on a 3m cable. To ensure that your hands are always free while working, we can also equip this scissor lift table with a foot switch.
The all-round safety strip under the platform prevents a person or other obstacle from being crushed when the platform is lowered. For additional protection, you can attach PVC roller blinds or bellows. The additional underflow protection also protects the scissors and the hydraulics of the lifting table from dirt.
Of course, you can also set up a rotating plate if you want to load your pallet from several sides.
Interesting facts from the world of lifting tables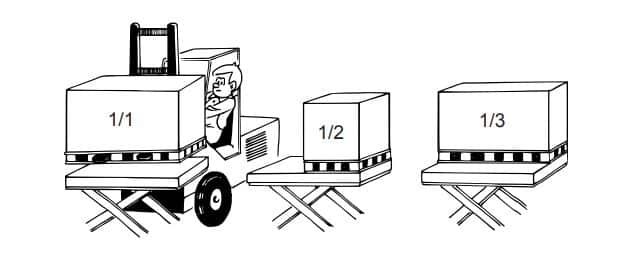 Distribution of the nominal load
The specified nominal load applies to a load that is evenly distributed over the entire platform area.
According to EN 1570-1, safety requirements for lifting tables, the basic requirements are as shown in the following graphic.
•100% of rated load distributed over the entire platform area
•or 50% of the rated load distributed over half the length of the platform
•or 33% of the rated load distributed over half the width of the platform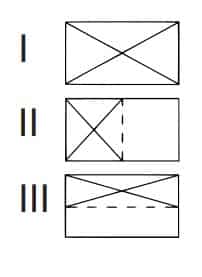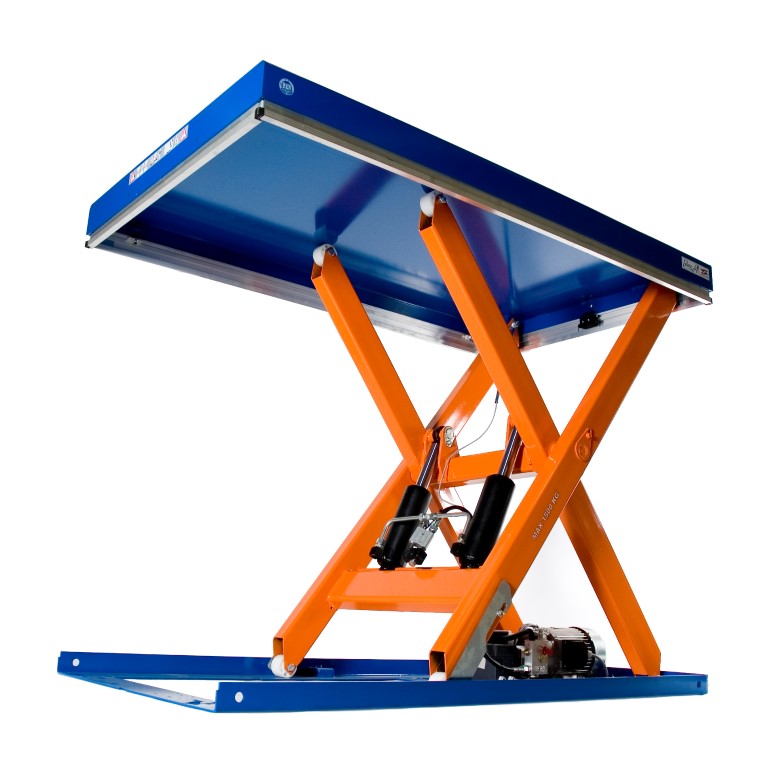 T-tables: 10 strokes/hour in 2 shifts or 10,000 strokes/year, then HD version
TUL/TCL: 5-6 strokes/hour in 2 shifts or 5,000 strokes/year
TUB/TCB: 3-4 strokes/hour in 2 shifts or 4,000 strokes/year
C tables: 30 strokes/day
Flat-form lifting tables and C-tables are not system tables! The intensity refers to maximum load.
Scissor lift table with two cylinders
The single scissor lift tables are equipped with high-quality hydraulic cylinders. The engine pumps the oil into the cylinders, which extend and push the scissor mechanism upwards.
When driving down, the valve is opened and lowered without the engine. A pipe burst protection ensures safe work, even if a hose or other component becomes defective.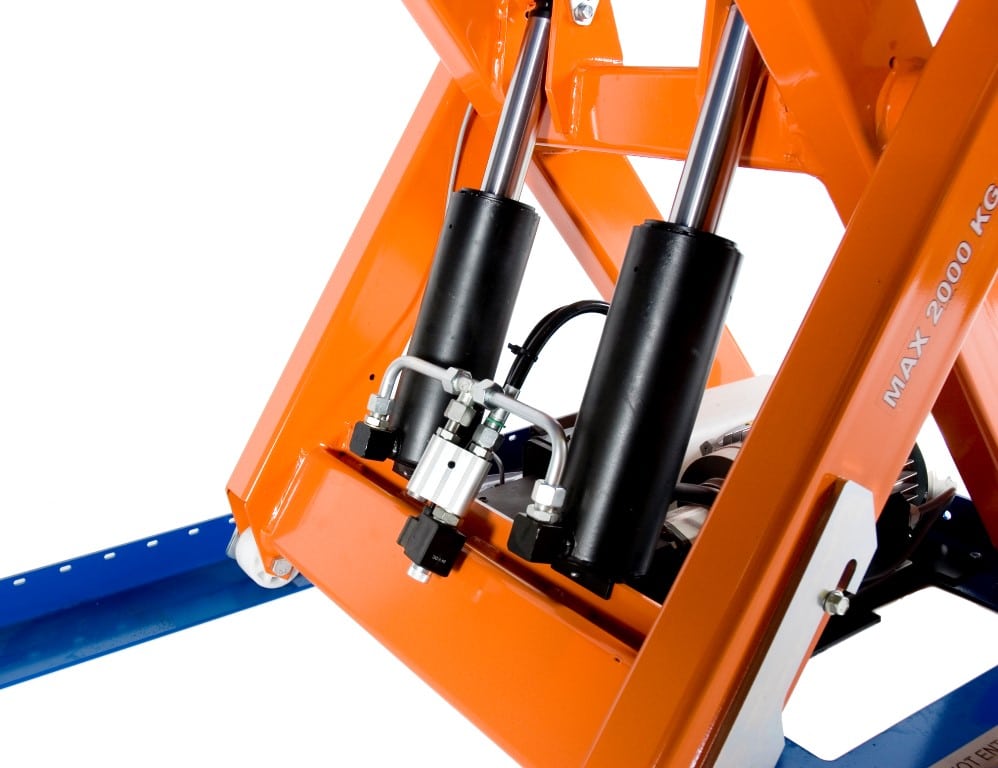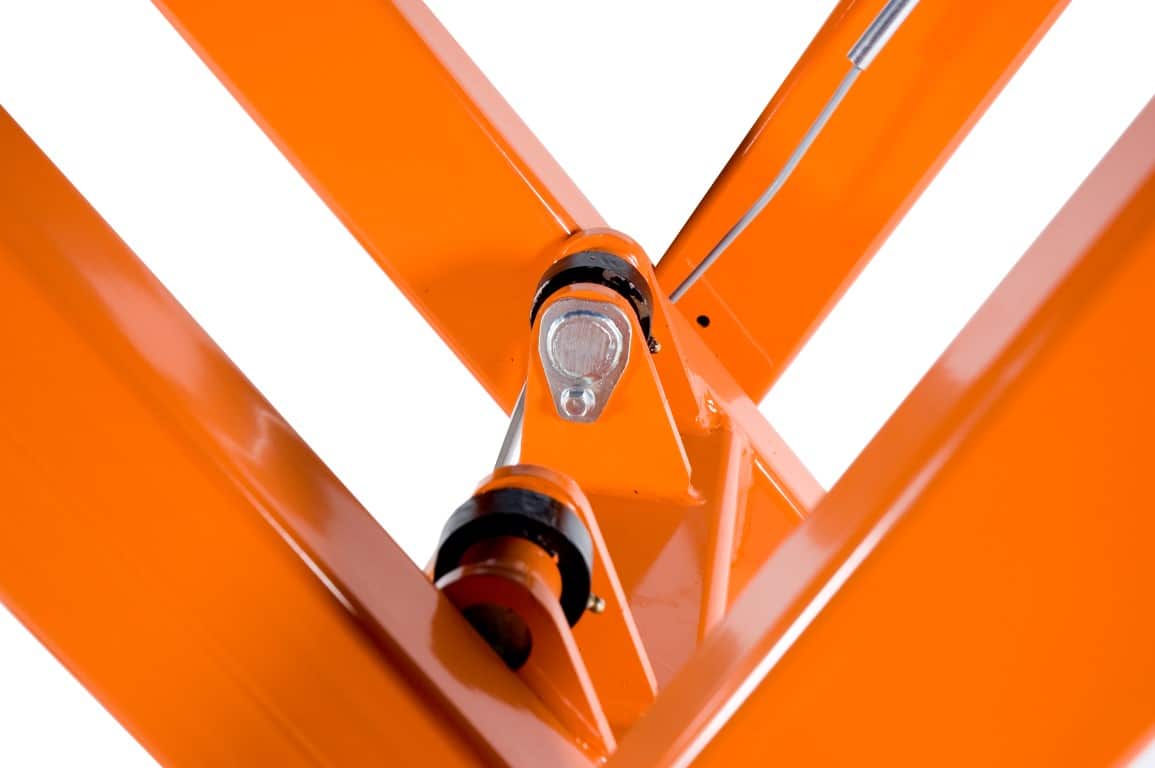 Scissor bearings for hydraulic lifting tables
Here you can see a detail of the scissor bearings of our single scissor lifting tables. This type of storage is used in most of our hydraulic systems and ensures that our lifting tables move up and down evenly.
Rollers at the end of the scissors
Most single scissor lift tables have rollers installed on the lower and upper scissors so that they are guided gently during the lifting and lowering movement.
For higher loads or special requirements, these rollers are made from solid steel. Both Standard lifting tables we use high quality plastic.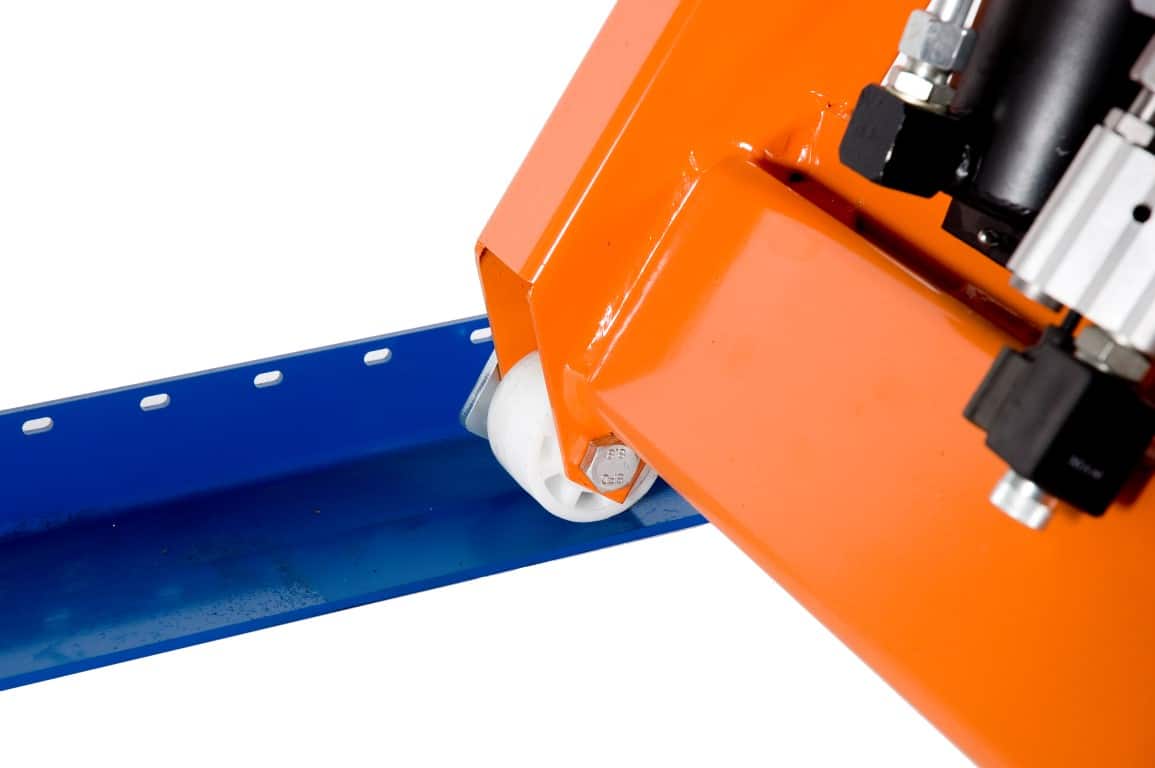 If you have any questions, please contact us immediately Contact on. We are happy!