Lifting table with tilting platform
Our customer approached us with the idea not only to raise his products, but also to lean towards fitters. After coordinating which payload, which size, which stroke and which inclination is desired, we have created an offer tailored exactly to the customer's wishes.
Tilt tables are available with or without lifting function. The dimensions and the payload of the tilting lifting tables can be freely selected, as these are custom-made products. The product is raised to the desired height and the worker then tilts forward until he can work in an ergonomic position. Lifting and tilting is done at the push of a button.
In the standard range, we like to use our hub tilting devices for such applications. These have the advantage that the lifting and tilting movements are carried out simultaneously. Stroke tilting devices are available in many standard versions. Custom-made products are also possible.
Project details from the tilt lift table
Lifting table with tilting platform
In this project, we supplied 5 tilting lifting tables with a platform of 1500 x 1200 mm. The useful stroke is 500 mm and the upper platform can be tilted up to 80°.
To prevent the product from falling off the platform, the customer later installed a rail system for fastening himself.
Lifting table with tilting function
It is imperative that
tilting lifting tables
are properly attached to the ground so that they do not fall over in the tilted position.
The load capacity of the
lifting table
is 1500 kg. However, the heaviest product is only 1000kg, so we have calculated sufficient safety.
In this project, we attached a stop with knot plates to the tilting side. Here, the goods are supported by the customer so that they do not fall off the platform. In addition, the goods are kept with a rail system (was first set up by the customer).
Under the tilting platform there is also a circumferential safety bar (in red), which stops the platform as soon as it is pressed. This prevents squeezing of the operator, products or tools that are mistakenly placed there.
Operation is via a hand button with 4 buttons. Up – down – tilt – tilt. The procedure is carried out by means of deadman circuitry. This means that as soon as the button is omitted, the system stops immediately.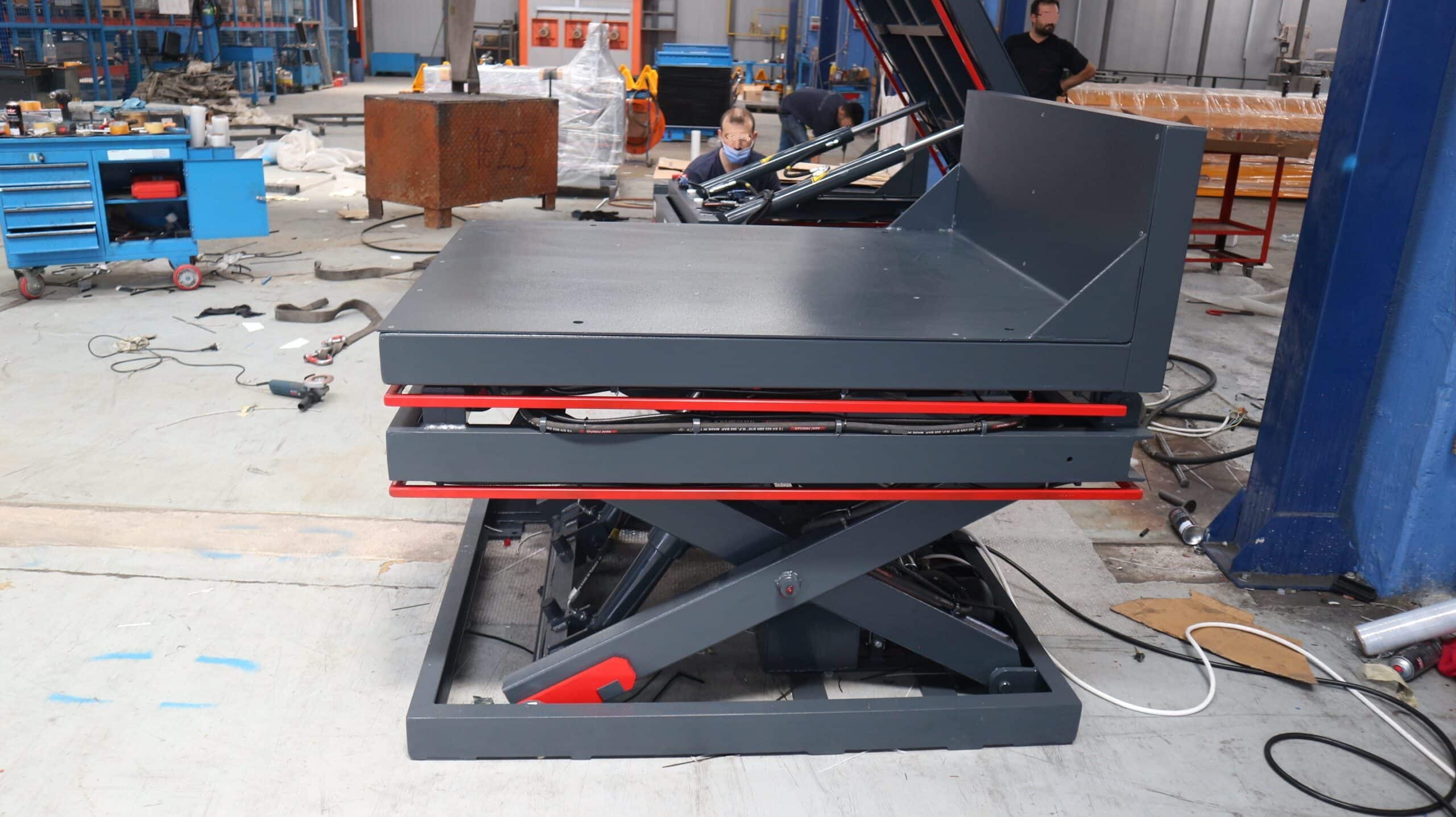 Tilting lift table with second platform
Tilting tables require a second platform in contrast to lifting tilting devices. The lower part is a classic scissor lift table, the upper part the tilting platform.
Due to this design, a higher height is required than with our lifting tilting devices.
If you have any questions, please contact us immediately. We are looking forward to it!