Lifting table with scale and radio control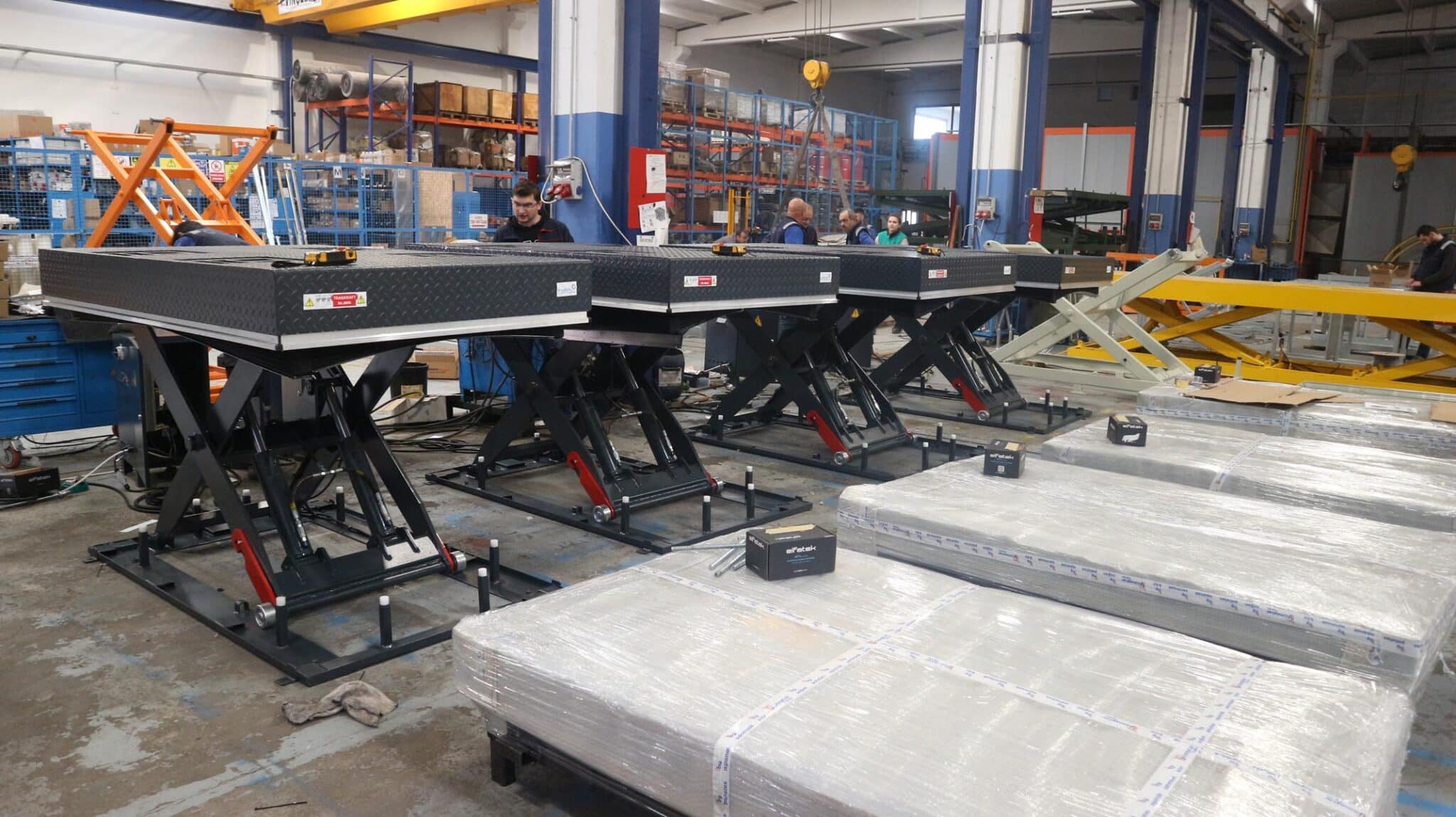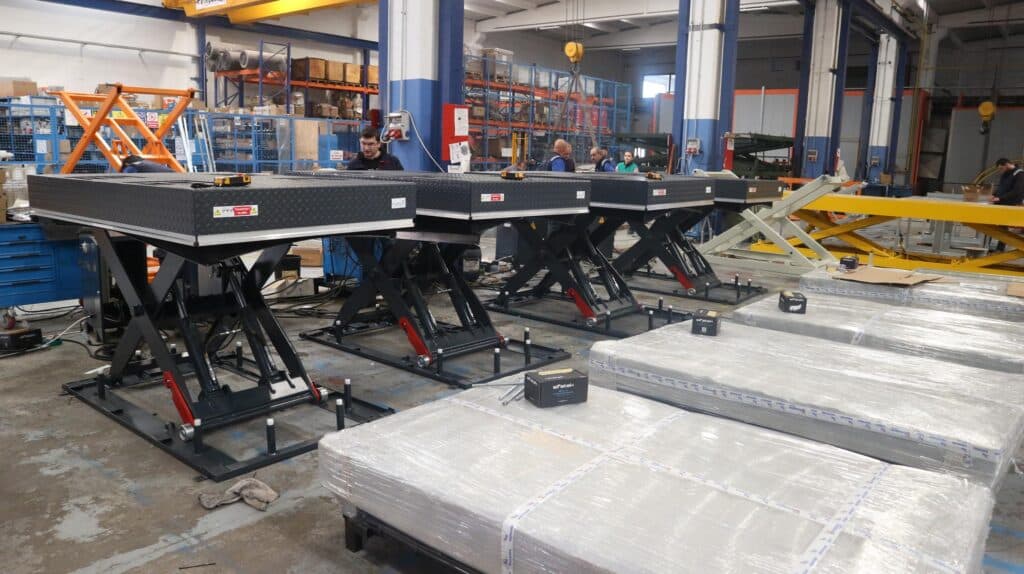 Almost all of our scissor lift tables can also be equipped with a scale. Whether the scale is integrated on the base frame, on the cylinder or in the platform depends on the application. Here, it is always checked for each project which solution is the best.
Lifting tables are very often used for packaging products in shipping departments. A scale integrated in the lifting table saves time and space, as no additional workstation is required for weighing.
In addition, in order to make the work of the employee much easier, we have equipped these 8 lifting tables with a radio control . Each lifting table has a radio button, which only allows this lifting table to be raised or lowered.
By using a radio button on the lifting table , it is not always 100% guaranteed that you can see the entire danger area under the lifting table when lifting and lowering. That is why we have equipped all lifting tables with a moving bellows in addition to the safety strip prescribed by the standard. This prevents something or someone from getting into the platform.
Impressions of the lifting table project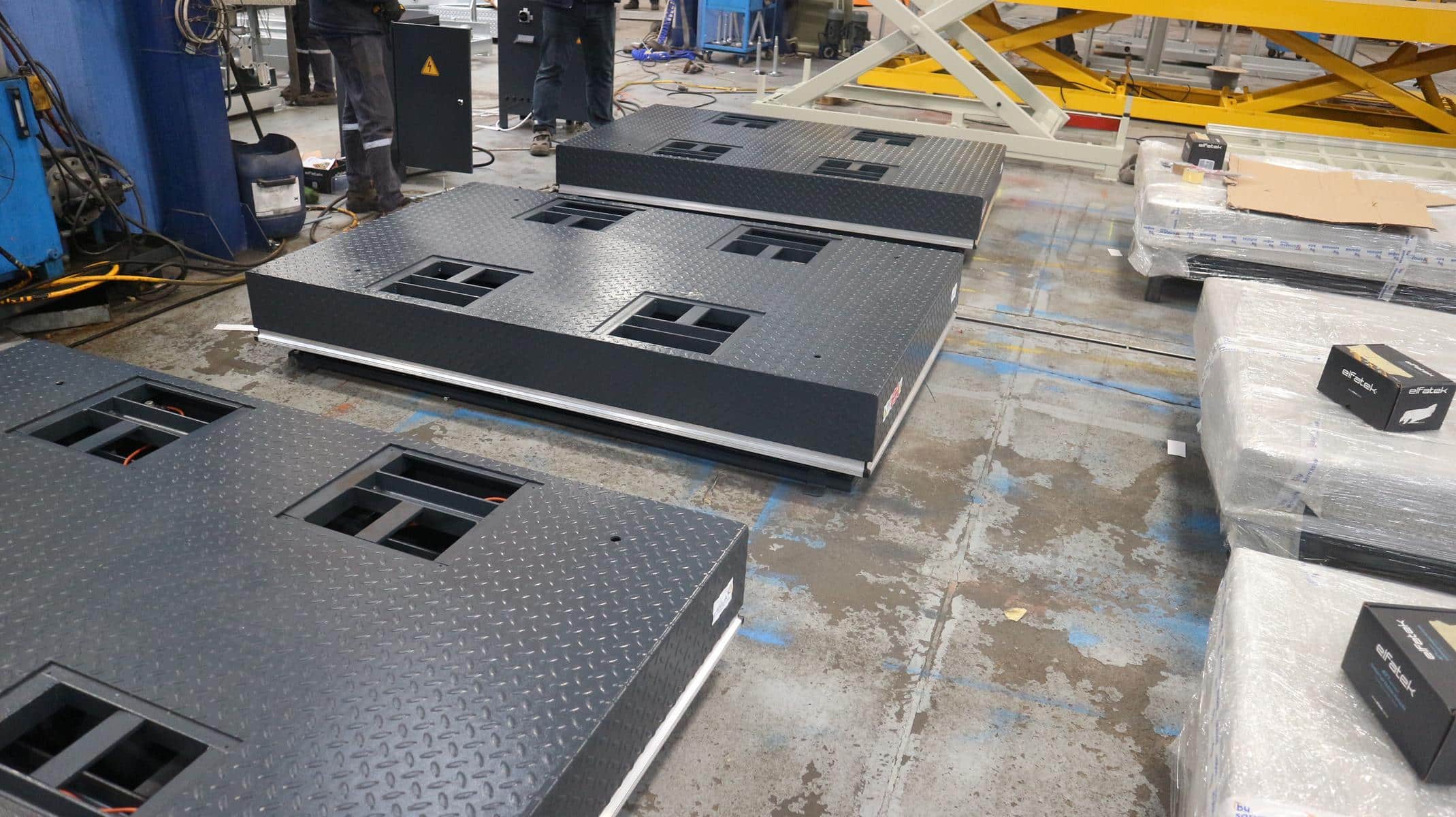 In this lifting table project, we integrated the weighing cells directly into the platform of the scissor lift table . For later maintenance work, these can be easily reached through four inspection openings.
The customer places the pallet, carton or product directly on the lifting table and can immediately read the weight.
No additional weighing space is necessary, which saves time, money and space.
Lifting table with bellows
In addition to the protective roller blind and the mesh shirt, a bellows can also be used as underflow protection for lifting tables .
The bellows always protect all four sides of the lifting table. A bellows according to the standard is necessary if you cannot see the entire danger area under the lifting table from the operating point.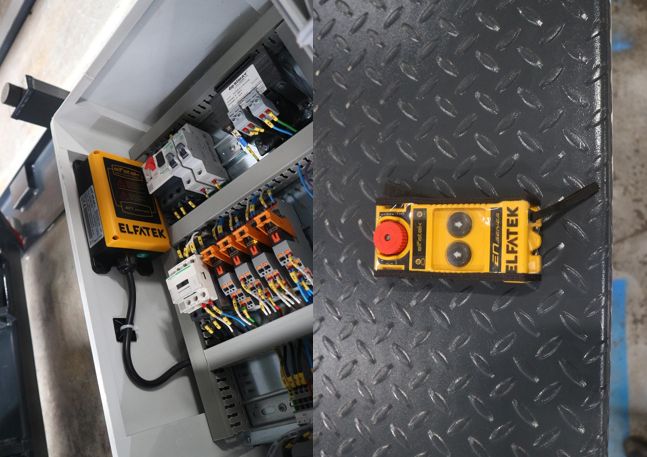 Loading lift table with radio control
In order to make the employee's work as easy and safe as possible, the lifting table was equipped with a radio control . Thus, you can move the lifting table up or down in any position without the cable being in the way.
Wired buttons also restrict the freedom of movement during packaging and there is a risk of damaging the cable.
Lifting table with weighing function & radio
The task was to build 8 hydraulic scissor lift tables in such a way that the pallets could be weighed directly at the lifting table during packaging .
For this purpose, we have integrated a scale directly into the platform. Another challenge was that the lifting tables were installed in a pit and the customer drives a heavy forklift over them. Thus, heavy-duty weighing cells had to be installed so that they were not damaged by the load.
If you have any questions, please contact us immediately. We are looking forward to it!