For many applications, a standard lifting table is no longer sufficient. This is where our technicians come in to develop a lifting solution together with the customers. Here we pay close attention to the wishes of the customer, what is technically feasible and compliance with the applicable standards.
Lifting tables with very high load capacities are also colloquially called heavy-duty lifting tables . Some heavy-duty lifting tables up to 10,000 kg payload can also be found in the standard models. In most cases, however, not only a large lifting capacity is required, but also a special platform size. Therefore, most heavy-duty lifting tables are manufactured in special designs.
Lifting tables with a load capacity of 20 tons to over 60 tons are not uncommon and can be produced in all sizes thanks to our many years of experience. Dimensions, special requirements and the use case send to us, we will prepare a quote free of charge.
Heavy-duty lifting tables from the professional
Heavy-duty lifting table for excavators
With this lifting table with a very high payload, a variety of options have been taken into account:
– Railing on the lifting table as fall protection
– PVC protective roller blind as underflow protection on the narrow sides
– Mechanical supports to prevent sinking
– Staircase with pedestal as access to the platform
– Increased strength of the scissor lift table for high wheel load
Heavy-duty lifting table with railings
This heavy-duty lifting table is used to transport goods to the next level with forklifts and pallet trucks.
The customer's request was to do without a massive shaft, so we equipped the platform with massive railings on both long sides and additionally with gates on both narrow sides. The gates on the lifting table platform only open when the lifting table is in the appropriate position. In addition, another gate was placed at the upper stop.
Here, not only the platform for the
high wheel load
was reinforced, but also extra sturdy scissors were used. Stability is ensured by 4 hydraulic cylinders. In
standard lift tables
, often only 2 cylinders are installed. As a result, we achieve a very
large load capacity
with this
scissor lift table
.
Since the platform is accessible, a tear plate was chosen as the platform covering.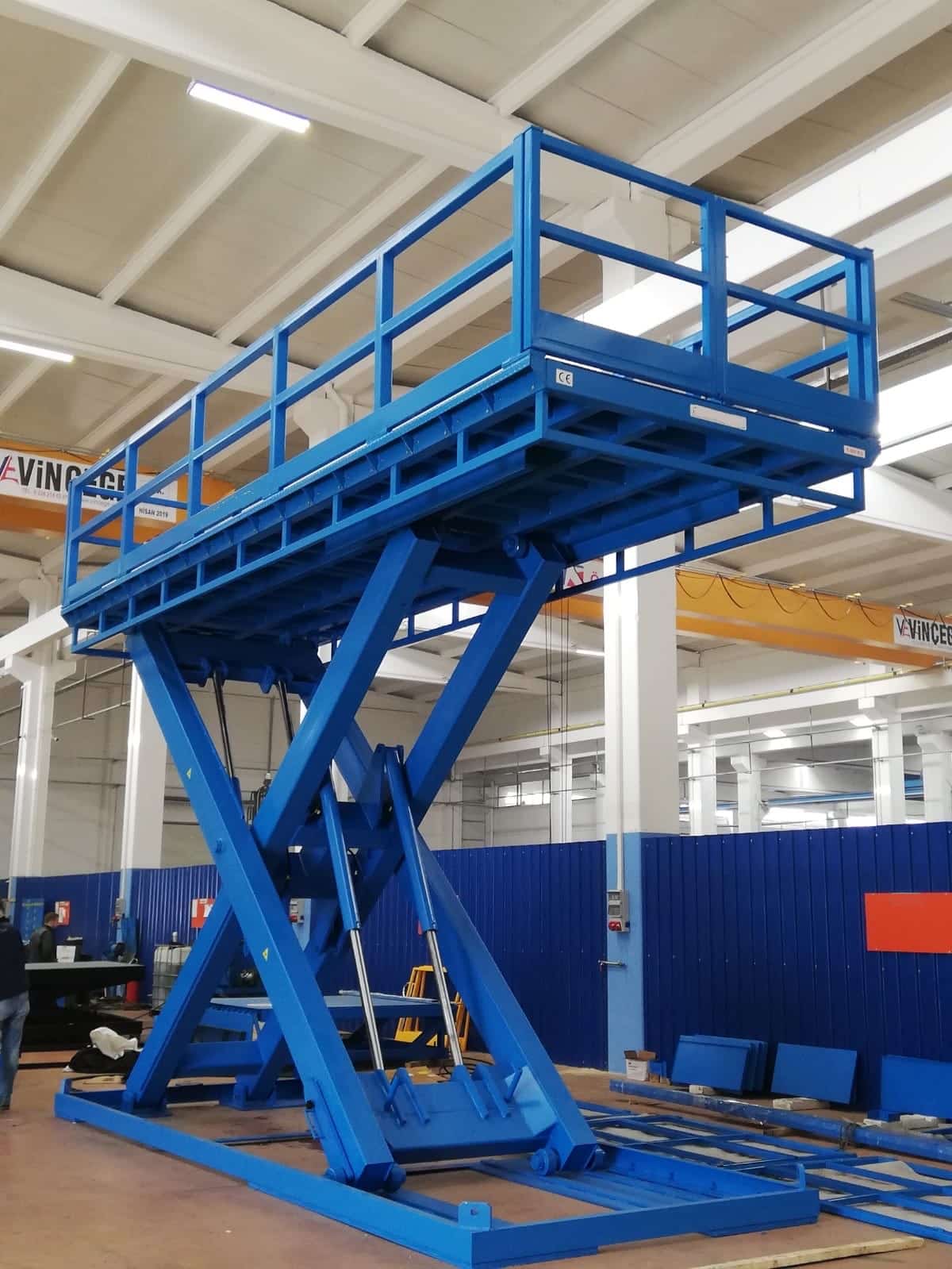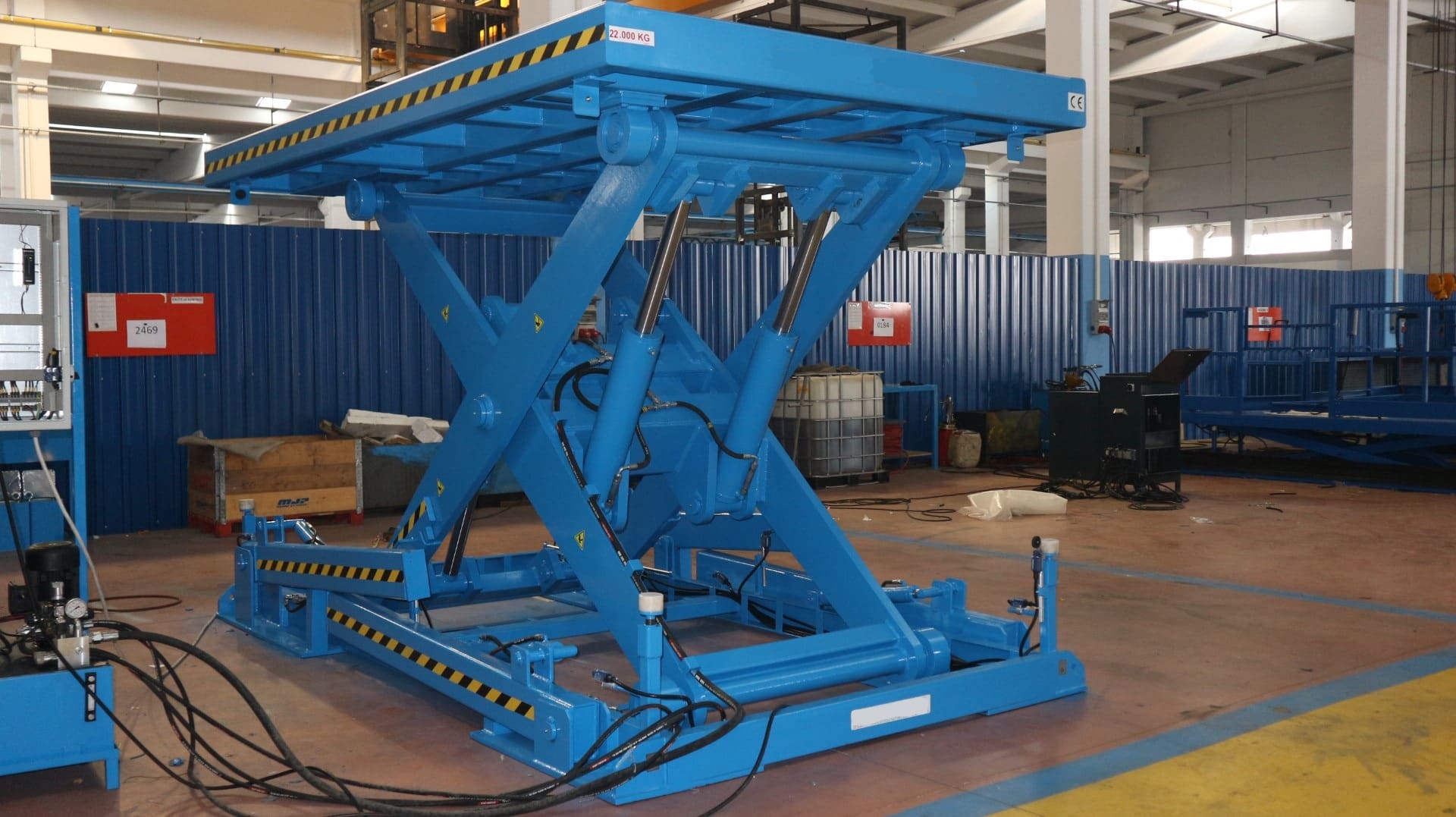 Lifting table with 22 tons payload
The customer often has applications in which very large loads have to be lifted on a relatively small platform area. Here, our customers benefit from our many years of experience.
This heavy-duty lifting table has a load capacity of 22,000 kg. The mechanical supports prevent a sinking in the upper stop. At the lower stop, the lifting table for large loads rests on the adjustable attachment pin. This relieves the shears and hydraulics.
Heavy-duty lifting table with long platform
Sometimes a large load capacity alone is not enough to fulfill the wishes of the customer. In this project, we had to create a very long platform so that the customer could ideally lift his long products.
The motor is equipped with a volume divider so that it can be lifted evenly even with uneven load distribution.
In the upper end position, 8 bolts extend so that the upper position can be kept stable. Thus, there is no sinking of the platform during loading.
If you have any questions, please contact us immediately. We are looking forward to it!