Garbage can lift in Vienna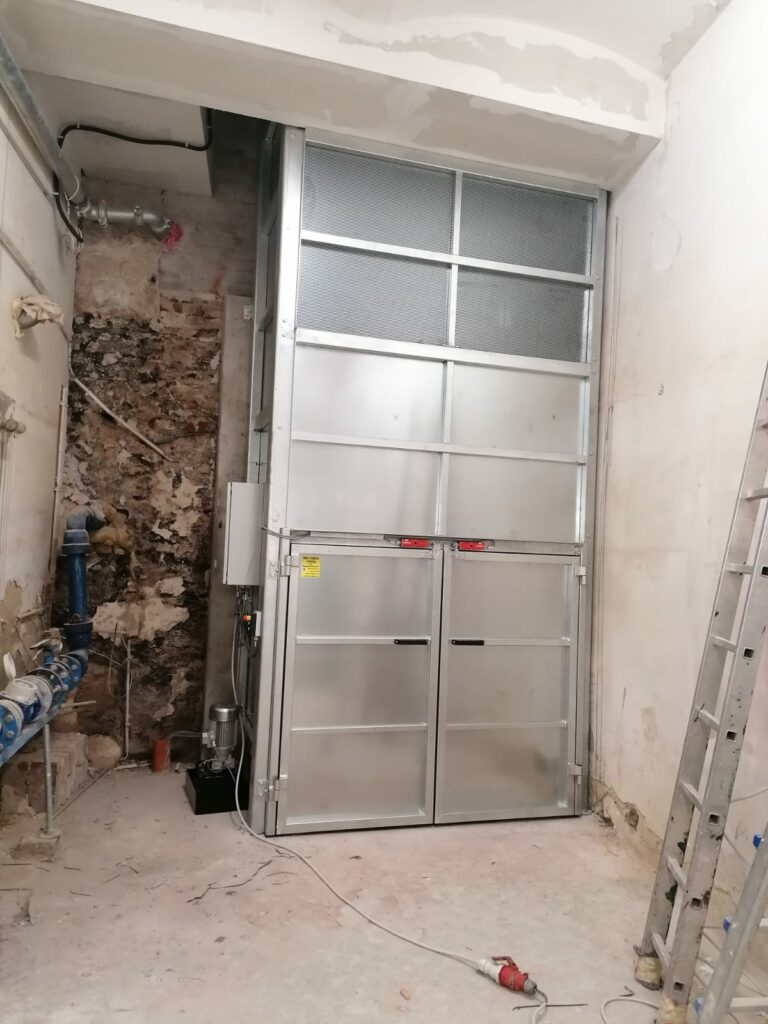 Especially in larger cities and in tight spaces, the garbage containers are positioned in the building – usually in the basement. Lifting systems are installed so that they can be returned to street level when emptying.
Depending on the application, these can be transported upwards with a scissor lift table or with a column lifter.
At this hotel, the task was to lift dumpsters of up to 1000kg from the basement to street level . The platform was manufactured with 1800 x 1300mm. In the basement floor, a pit had to be built for the technology so that you can drive onto the platform. If no pit is possible, we resort to our column lifters. In this project, a level difference of 3.3m had to be overcome.
Operation is from above and from below. The respective door only opens when the lifting platform for garbage cans is in the appropriate position.
Installation and acceptance of the garbage lift. We didn't just do the assembly here. But also the acceptance according to the Lifting Systems Act carried out. For this purpose, we prepare all necessary documents and carry out the on-site inspection. On the customer's side, only the building permit must be obtained.
Lifting dumpsters out of the basement
Insertion from the garbage can lift
Especially in the case of conversions of existing buildings, the installation of lifting systems for containers is very complicated, as there is hardly any space available.
We lifted this garbage can lift in Vienna into the building with a special crane through the gate opening of the upper stop and transported it down with a winch.
Due to our many years of experience, we can already estimate very well in the offer phase what we need for the assembly. We want to avoid surprises on site as much as possible.
Shaft scaffolding from the lifting device for garbage containers
In order to be able to operate the lifting table for garbage cans from above and from below, it was mounted in a closed shaft. The shaft also has the advantage that you can build the lifting table without railings, as the containers can not fall down.
The shaft cladding was chosen here with sheet metal and in the upper area with perforated sheet metal by the customer.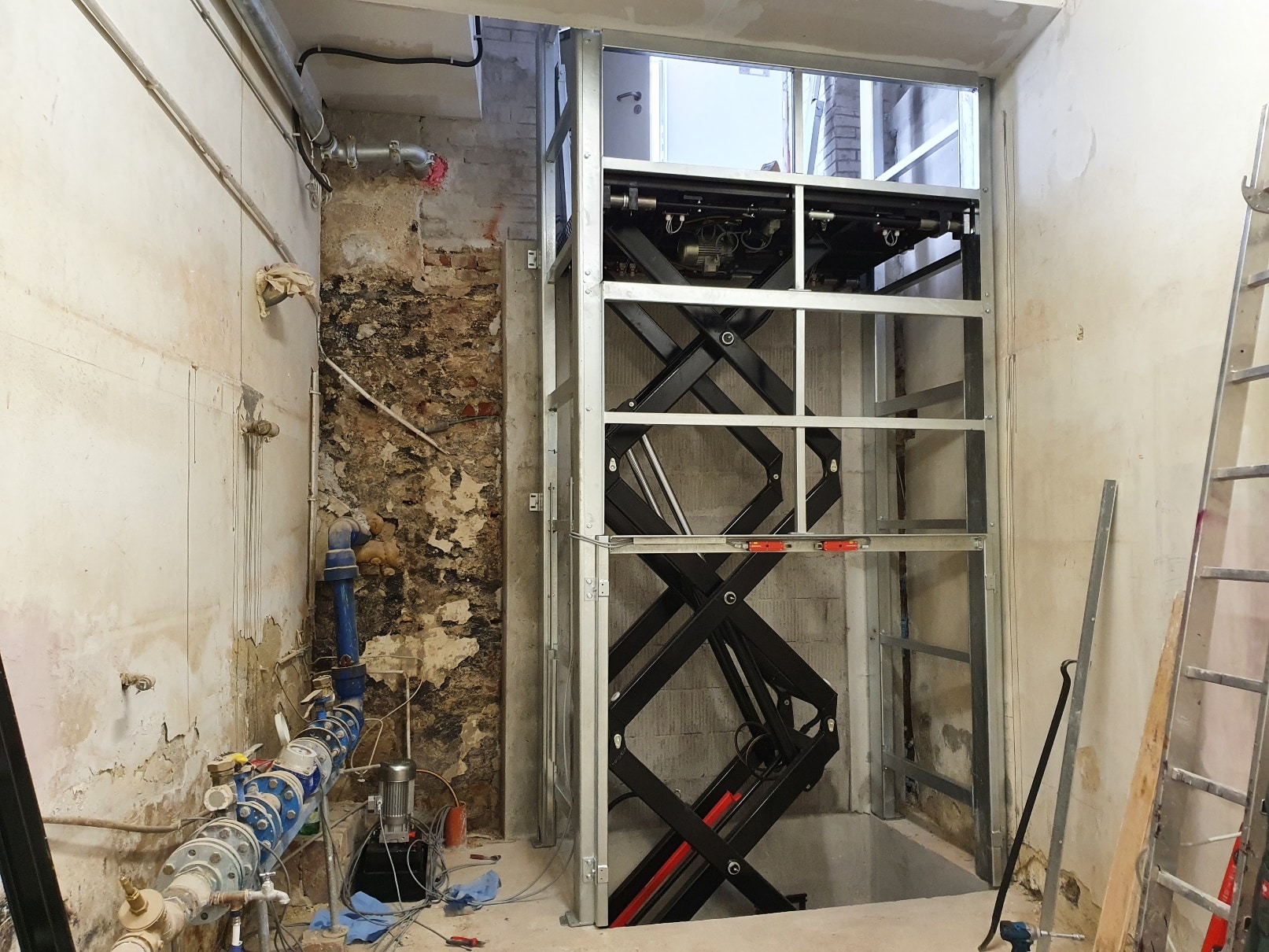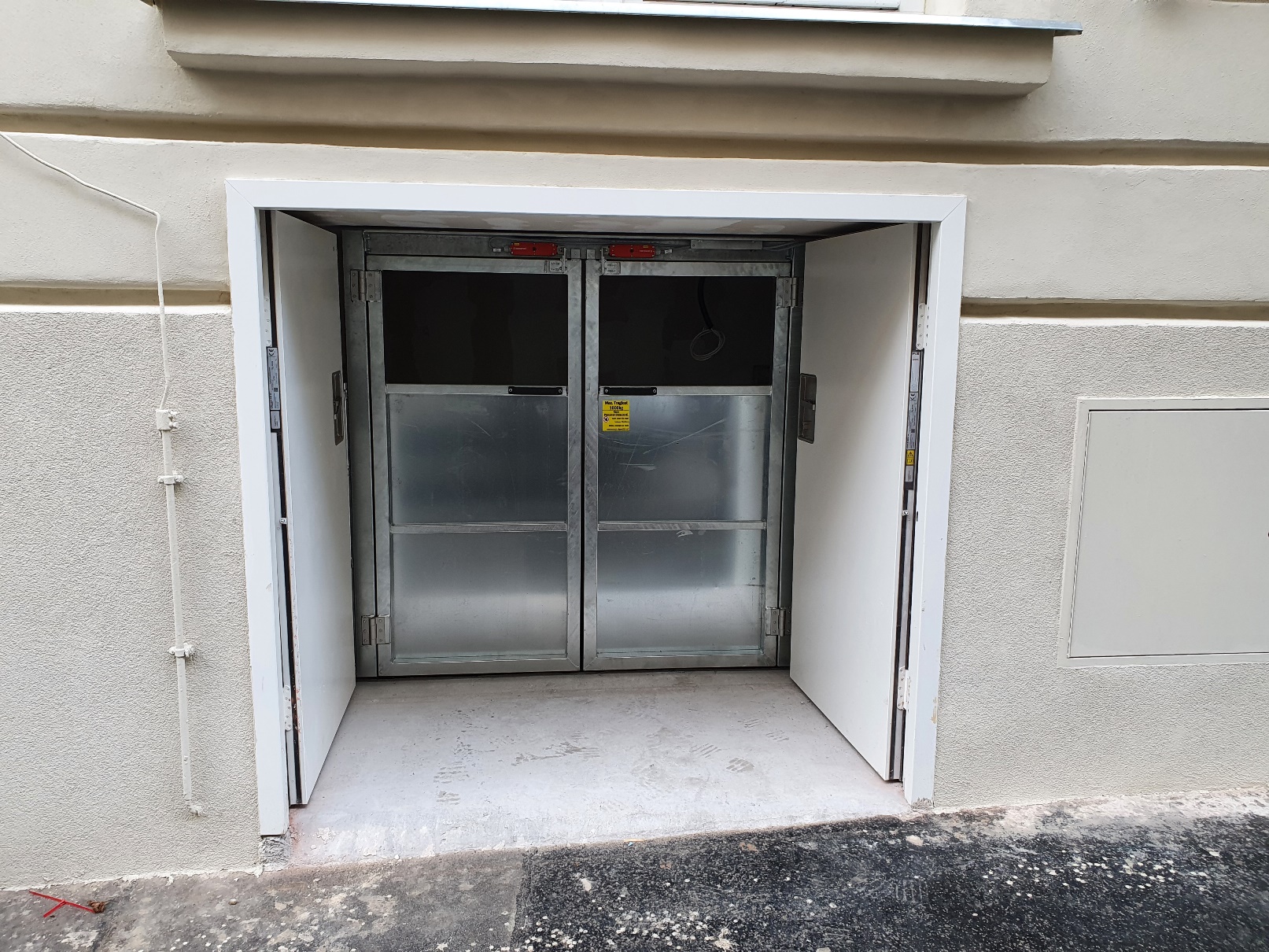 In the back area, you can see our gate, which is installed directly in our shaft. This only opens when the stage is in the upper position. Otherwise, the door is locked by the garbage lift and cannot be opened.

Before that, we had to install an additional fire door (white), as the building authority has made this specification.

We not only take care of our lifting system for garbage containers, but also all the necessary components that connect to us.

If you have any questions, please contact us immediately. We are looking forward to it!