Maluk offers stroke tilting devices in various platform sizes and load capacities
With our armliftsyou can easily lift and tilt the platform with just one device. Maluk offers tilting devices in various platform sizes and load capacities. Since the armlift are designed for tilting goods, employeescan always remove or place the products in the ideal area. This not only speeds up the workflow, but also ensures ergonomic work. The angle of inclination is +5° to -40°.
In the standard version there are our inexpensive lifting tilting devices with 750 kg and 1500 kg payload. In special construction, we can also offer a payload of up to 3000 kg.
Load the pallets, lattice boxes or cartons onto the armlift, lift them to the desired working height and set the appropriate working angle. In the later workflow, they only have to adjust the height, as the set angle is automatically reached again by the scissor geometry. This patented construction is unique in the world and therefore very popular.
The stroke tilting devices have the lowest distance between platform and floor in the lowest lifting position in the world. Thus, pallets can be lifted directly from ground level.
The platform size can also be increased or reduced at the customer's request. Additional stop angles or slip protections are also available on request.
Increase work speed and productivity while reducing the burden on employees, as the products can always be removed at a comfortable height and at the ideal angle.
Load capacity up to 1500 kg in the standard range up to 3000 kg in special construction
Lifting heights between 550 mm and 820 mm are available
Height and angle adjustment via just one hand button
Tilt angle can be set between +5° and -40°
Angle can be adjusted in the extended state at any time in deadman operation
Slip protection included
Complies with the applicable lifting table standard, EN 1570-1
Including CE declaration
Detailed user manual in many languages
Control voltage 24V in deadman operation
Electrical system according to protection class IP54.
Clamping protection distance according to standard between all moving parts.
Adjustable, highly sensitive protective frame on all four sides of the platform.
Armlift equipped with maintenance-free bearing.
Armlift are perfectly suited for all applications
Armlift ART 1500GV on feet.

This model has feet, a so-called pallet truck device, mounted under the base frame as standard. This increase makes it easy to transport the armlift to another place of use with a pallet truck, an electric ant or a forklift.
Armlift ALT with platform

The classic stroke tilting devices have a closed platform with a stop angle on the side, on which is inclined. Depending on whether the short or long side is tilted, these tippers are equipped with one or 2 scissors and cylinders. Various dimensions are available in the standard range with short delivery times. In special construction, other dimensions or construction are possible.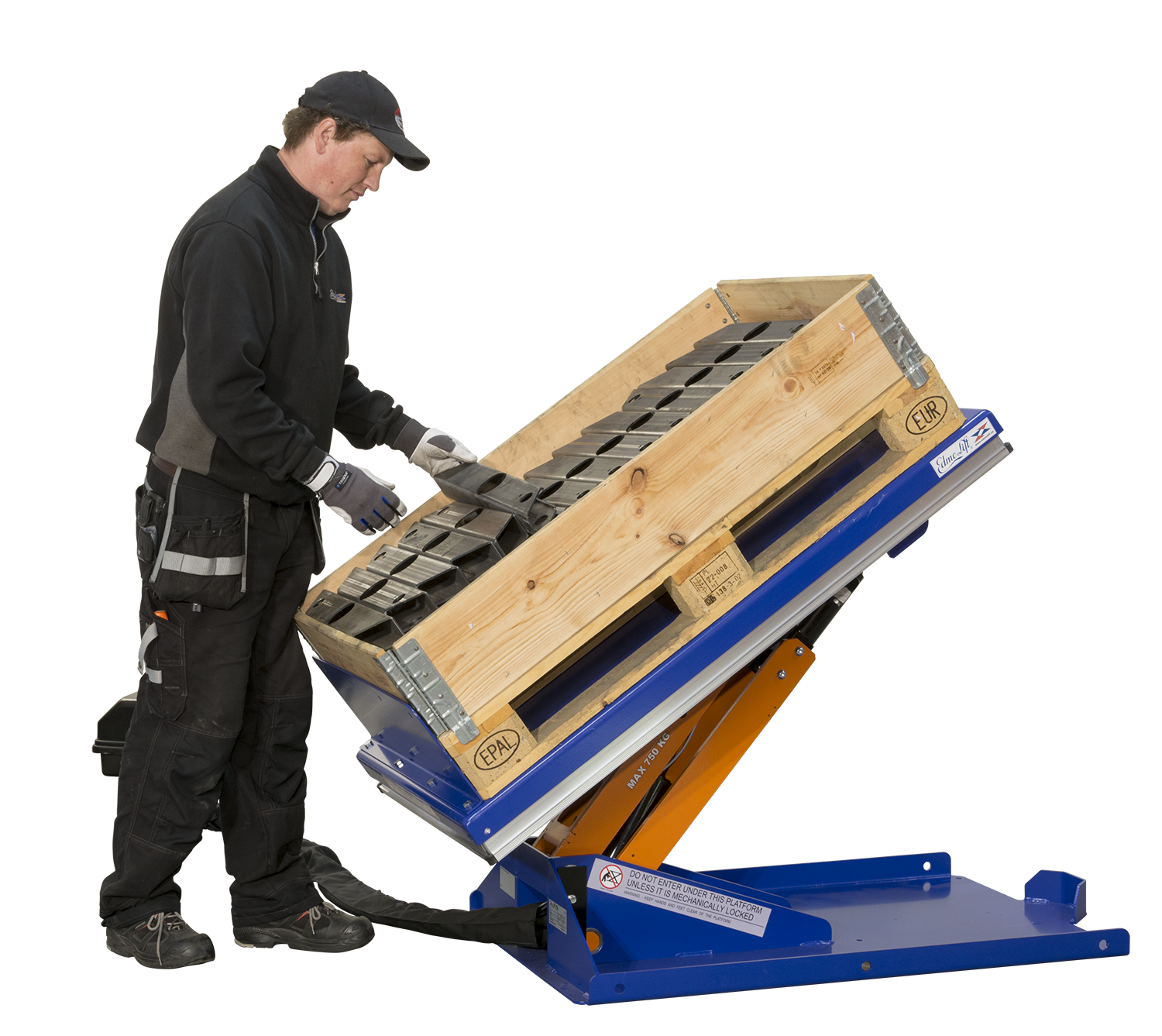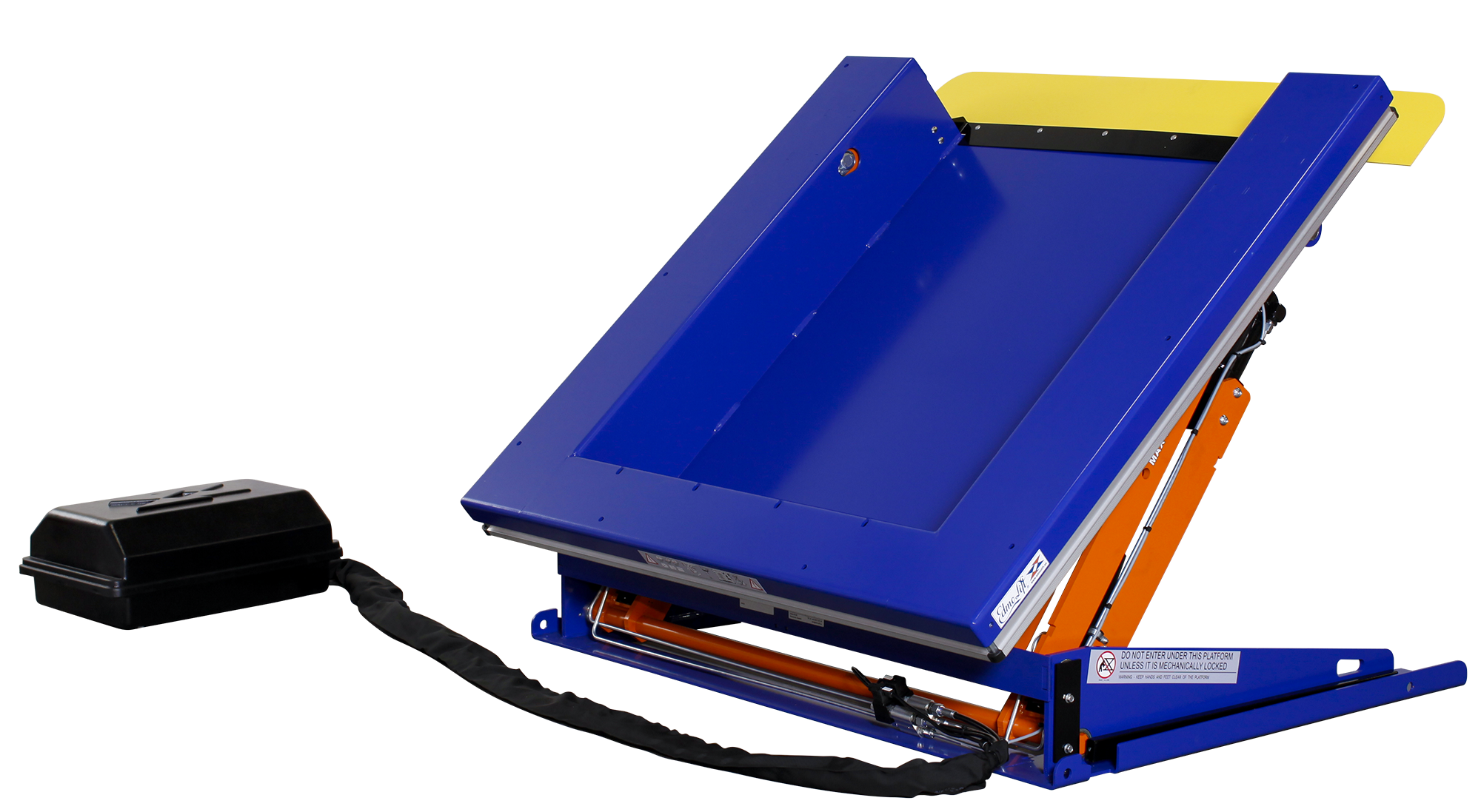 Tilting device with low height
These tilting devices have an extremely low height of only 6 mm. The scissor arms are arranged on the left and right and in the middle there is an ideal holder for lattice boxes, Euro pallets or cartons. Due to this low U-shaped holder, these tippers can be easily loaded and unloaded with any pallet truck or stacker and your goods can be safely removed to an ergonomic removal position.