Hydraulic scissor lift tables are sufficient in many applications. However, they have the disadvantage – as the name suggests – that they are operated with hydraulic oil. In some industries or in some applications, however, no oil is allowed. Here, alternative drive types such as a spindle drive are used.
A second big advantage of spindle lifting tables is that the lifting table can be positioned exactly. Whether in the upward or downward direction, you can place the lifting table very precisely at the desired position. In addition, the lifting table remains stable at this position even over a longer period of time.
A small disadvantage of spindle lifting tables is that they are usually significantly more expensive than the hydraulic lifting tables.
Lifting tables with spindle drive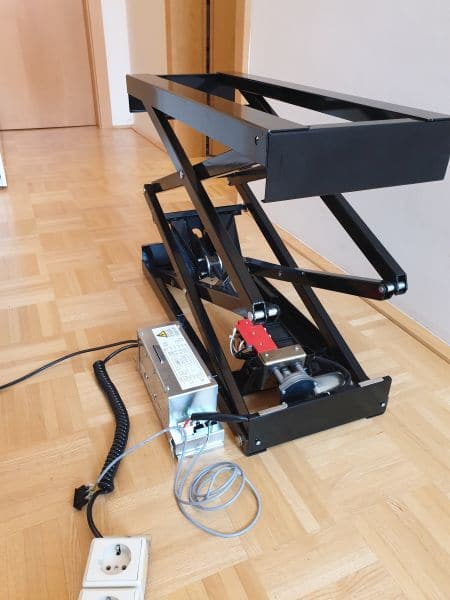 Mini lifting table with spindle drive
These small lifting systems or mini lifting tables are very often used in furniture construction.
Due to their compact design, they fit perfectly into cabinets or other pieces of furniture. The lifting area of these small spindle lifting tables must always be secured by the customer, as no safety strip is supplied.
As equipment, two 230V sockets are supplied here to
e.B. the microwave to be lifted, bread slicer, … to supply with electricity. A rocker button on 1.5m cable is supplied as standard.
Optionally, you can order a remote control with this small lifting system with spindle drive . This can be supplied with infrared or with radio wave.
Small spindle lifting table special construction
Our customer was looking for a lifting table that stops exactly at the top position and can stay there for a longer period of time.
In addition, the lifting table had to be built very narrow and very flat.
Since a hydraulic lifting table was out of the question here, we offered a compact spindle lifting table .
For the attachment of the customer's machine, countless holes were prepared in the platform so that the assembly was as easy as possible for the customer to carry out.
All lifting tables are tested before delivery: see video.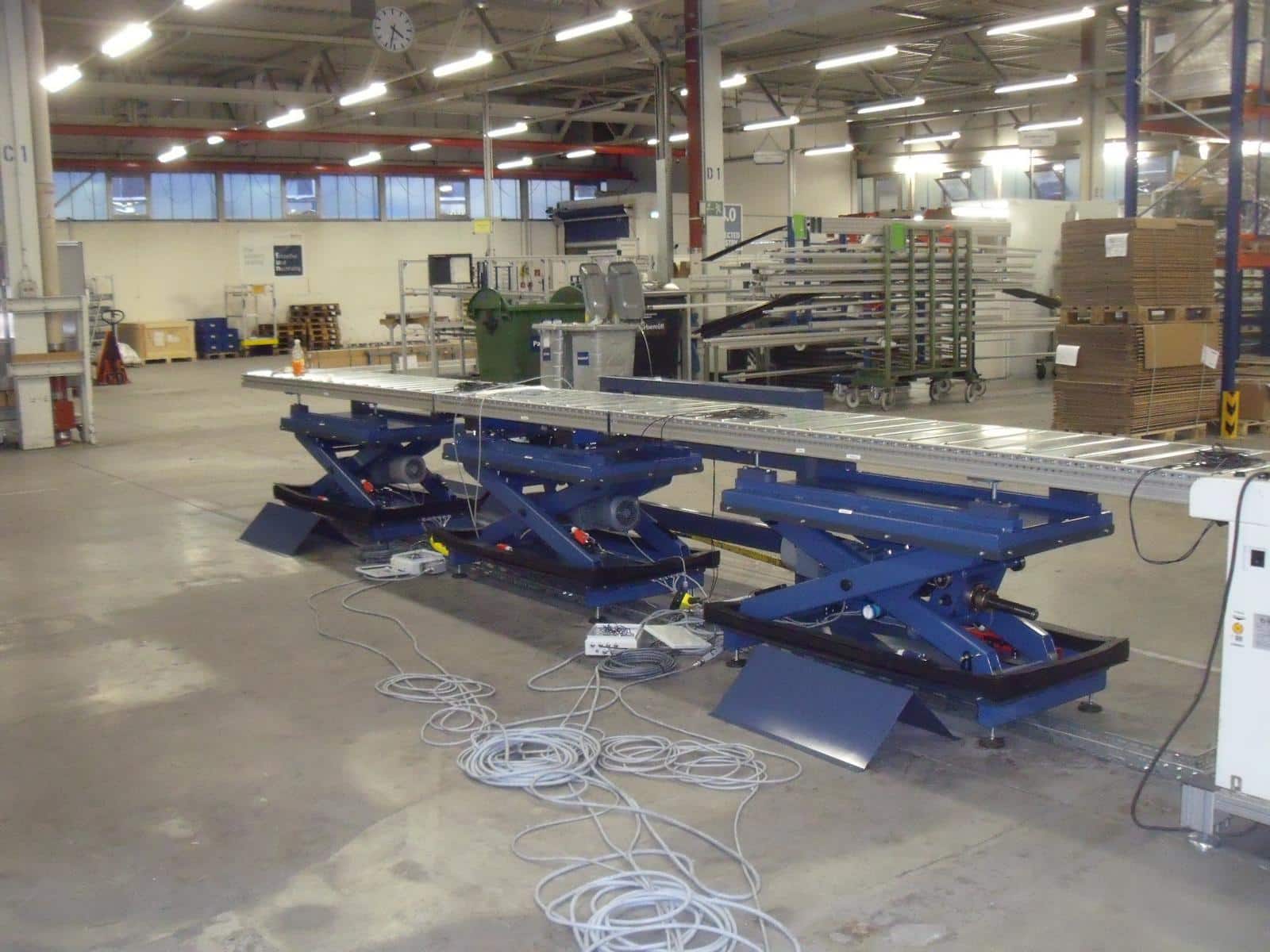 Spindle lifting table in plant engineering
If exact synchronisation is desired, then hydraulic lifting tables can be used with a flow divider.
For this project, however, the customer opted for our spindle lifting tables .
The three lifting tables have been designed in such a way that they can lift all three or even just two of them synchronously upwards. It was also possible to operate only one lifting table with spindle .
On the platform we have attached a special bracket for the transported goods from the customer.
Spindle lifting table with chassis
Spindle lifting tables can also be used mobile. We made this lifting table entirely of stainless steel and placed it on a chassis.
For better use, we have attached sturdy push handles on two sides.
As underflow protection we have installed a bellows. This protects the operator on the one hand and the technology from the environmental influences on the other.
Platform dimensions, lifting range and load capacity can be selected for mobile spindle lifting tables , as they are built as a one-off production anyway.
If you have any questions, please contact us immediately. We are looking forward to it!