The loading lifting tables / loading lifts offered by us are used for loading and unloading trucks and flatbed trucks or for level bridging in front of loading ramps
Our loading lifting tables are always supplied with lifting eyelets for transport or easier pit assembly, attachment bolts in the base frame for scissor-friendly loading at the lower stop, stroke limit switches for adjusting the upper level and tear plate as an anti-slip protection.
The best-selling loading lifting tables have a platform size of 2500 × 2000 mm or 3000 × 2000 mm. The most common payloads are 2000 kg, 4000 kg and 6000 kg. The lifting height is in most cases at the height of semi-trailers at about 1300 mm.
However, we do not only supply standard versions, but also adapt the dimensions to your requirements or circumstances without much extra charge. In any case, it pays off to request our stable and also inexpensive loading lifting tables.
Loading lifting tables are particularly robust and, for the most part, large scissor lift tables designed for use on (loading) ramps. With these truck lifting tables you can transport pallets, carts, transport equipment, pallet trucks or containers between loading ramps and the ground level of the hall / yard level or between the loading ramp and different types of transport vehicles. It is also possible to lift the transport vehicle or the forklift with these lifting tables so that you can reach the higher level. To make loading easier, we offer manual or electrohydraulic charging flaps on all sides of the platform as an option.
Loading lifting tables as a space-saving and safe alternative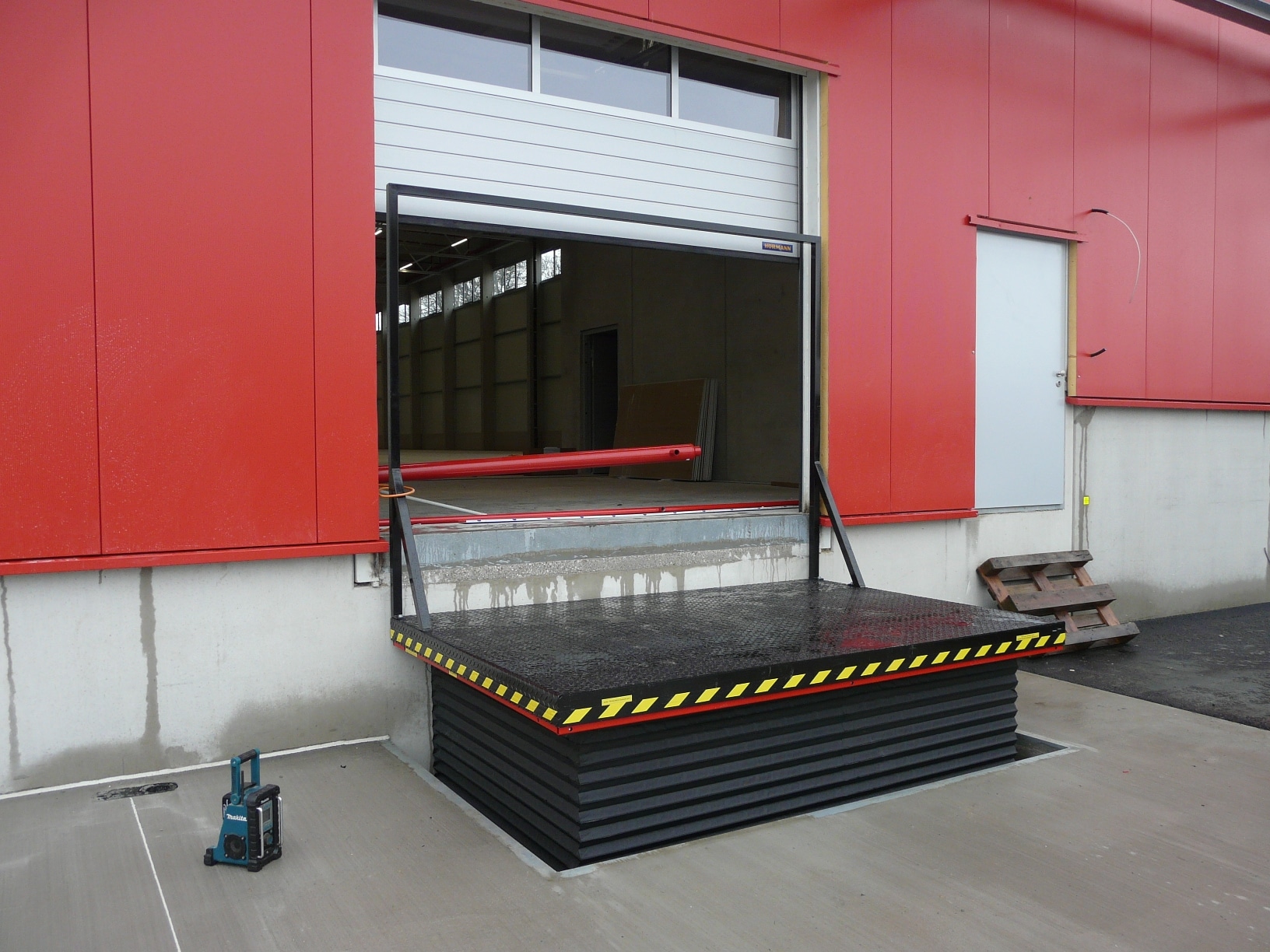 Loading lifting tables are used in front of ramps or in buildings with a height difference to the yard level. This loading lift table has a bellows and the safety strip prescribed by the standard installed as underflow protection. As fall protection, a sturdy travel bracket is mounted on the platform. When the lifting table is in the lower lifting position, this is about 1.2 m above the upper stop and acts as a railing. The platform surface is made of tear plate so that you have a better grip.
Loading lifting tables are adapted to local conditions
Our loading lift tables can be adapted exactly to the needs on site. In the case of an order, we create a mine plan with all the necessary information. These two facilities were equipped with circumferential railings and a gate towards the hall. In the loading direction of the truck, a hydraulic loading flap was installed which also serves as fall protection. The traffic light system at the loading lifting tables indicates whether the lifting table is currently in use or free.
Order loading lifting tables online from the expert
The sturdy loading lifting tables are not only used for loading and unloading semi-trailers or flatbed trucks, but also for transporting goods from farm level to the ramp with pallet trucks. This system has a circumferential grille shirt as underrun protection and railings including gates on the platform and a gate at the upper stop as fall protection. We have attached the operation with key switch for the limited number of users to a column next to the system.
These loading lifting tables are used indoors, in protected outdoor areas such as under a canopy or completely outdoors.
We adapt our lifting tables exactly to your wishes and environmental influences, so they tell us all your requirements. Indoors, the painted version is usually sufficient, but outdoors we rely on durable hot-dip galvanizing and a higher protection class for electronics.
Depending on the application, we offer the additional safety technology required according to the standard. Railings are available as fall protection, fixed or pluggable, on all sides of the platform. Gates, with or without forced contact, on all sides of the platform. Moving portals as fall protection, also available on all sides on the lifting table platform. As underflow protection, we offer a mesh shirt or a PVC roller blind on all sides under the platform. If all 4 sides need to be protected, then we offer a circumferential bellows depending on the application.
Often loading lifting tables have to be run over with a truck or other heavy equipment. Here we offer our reinforced platform with increased wheel pressure. Thus, the lifting table can even be run over with a semi-trailer in the lower lifting position in the pit.
Loading lifting tables often have to be supplied by the general contractor for large tenders. Here we are happy to support from the planning phase. With the offer you already receive a mine plan with construction information, we take part in construction meetings and check the natural dimensions. Our fitters are present at the delivery and carry out the assembly, commissioning and training. We also offer acceptance by TÜV or a civil engineer including acceptance findings and test book.
Further loading lifting tables for viewing