Hydraulic tandem scissor lift table
Scissor lift tables with two horizontally arranged scissors
"With this double scissor lift table you can easily lift very long goods weighing up to 4000kg!"
Through the horizontal arrangement of two scissors next to each other under the lifting table platform you can achieve a very long platform length. Since not one large pair of scissors is installed, but two smaller ones, a lower and space-saving height is achieved. The disadvantage, however, is that the stroke is smaller than with a very long single scissor lifting table because the scissor length is shorter.
There are almost no limits when it comes to platform length. In the standard range these are sufficient Tandem scissor lift tables up to 6000 mm – incredible 6m platform length! In special construction – which maluk can offer thanks to its many years of experience – platform lengths of over 10 meters are not uncommon. In such extremely long lifting tables Always check whether you need more than just two pairs of scissors next to each other.
Tandem scissor lift tables for the wood industry
Long lifting tables are very common in the Wood industry used. Whether boards or wooden panels, tandem scissor lift tables cover all required lengths. When using a woodworking machine, for example, it is important that it is known how many complete strokes but also how many short strokes lifting table might. Depending on the application, the construction or the motor must be made stronger to extend the service life. Likewise, in very dusty environments, special protective devices must be installed. Here come e.g. B. High-performance filter or a bellows can be used.
It should also be noted that the maximum load capacity must always be distributed across the entire platform. There are special solutions for one-sided loads. It always depends on the application as to whether it is sufficient to increase the actual load capacity of the tandem scissor lift table or whether a flow divider needs to be installed. The maluk technicians are happy to provide advice.
Often these are long Tandem scissor lift tables also with one roller conveyor or equipped with a chain conveyor. These can be provided by the customer or delivered by us.
Project examples from the maluk lifting table world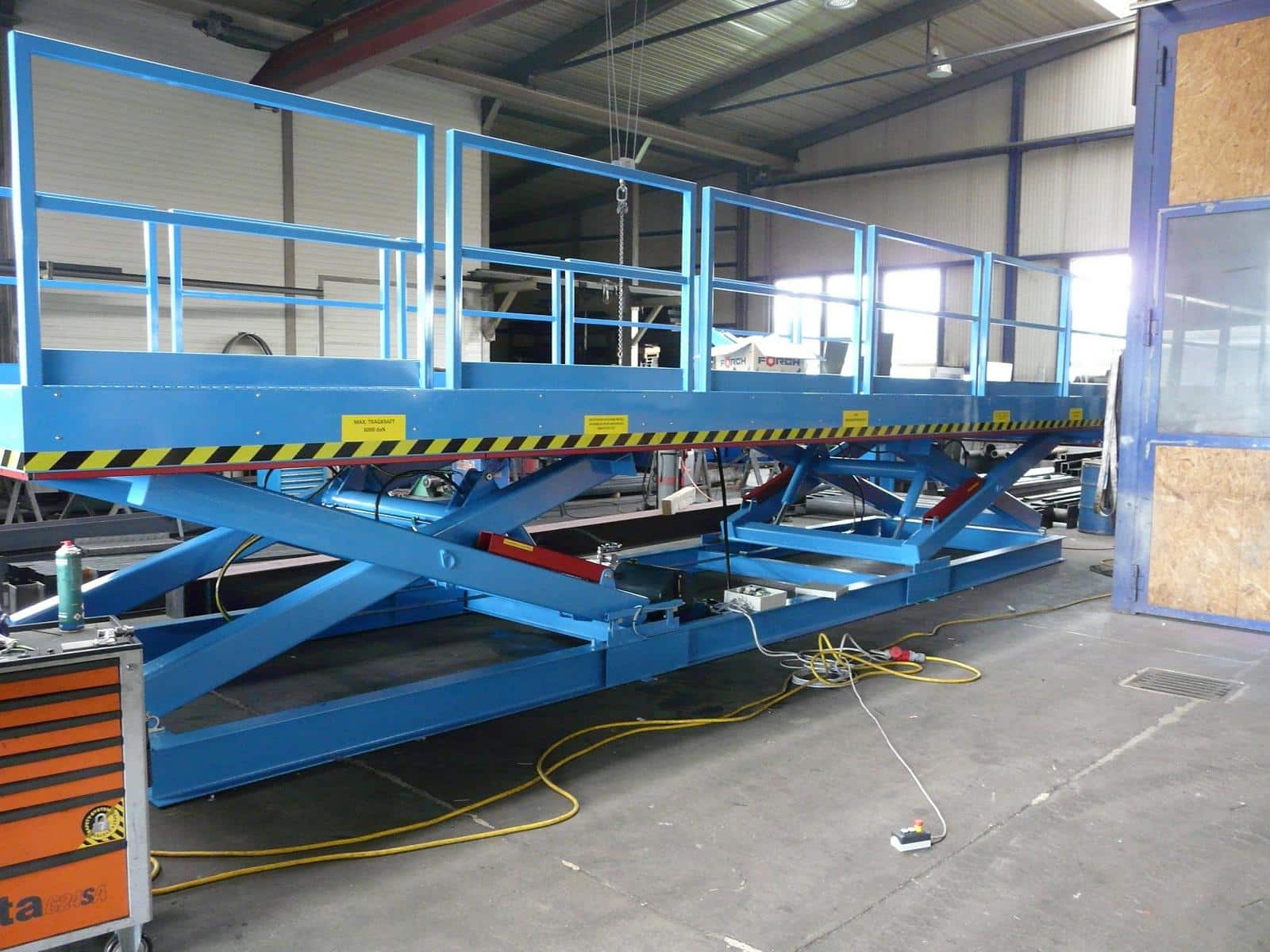 Tandem scissor lift table with railings
In this project we had to manufacture the customer's specific platform size. We also installed sturdy railings on both long sides to protect the platform from falling.
Tandem scissor lift table is used for loading and unloading trucks.
Compact scissor lift table with a load capacity of 12,000 kg
Due to the limitation in height, we had to use a special tandem scissor lifting table. With the two "small" scissors we achieved the customer's specifications.
Our lifting tables can be coated in all colors. We also adapted the electronics to the customer's specifications.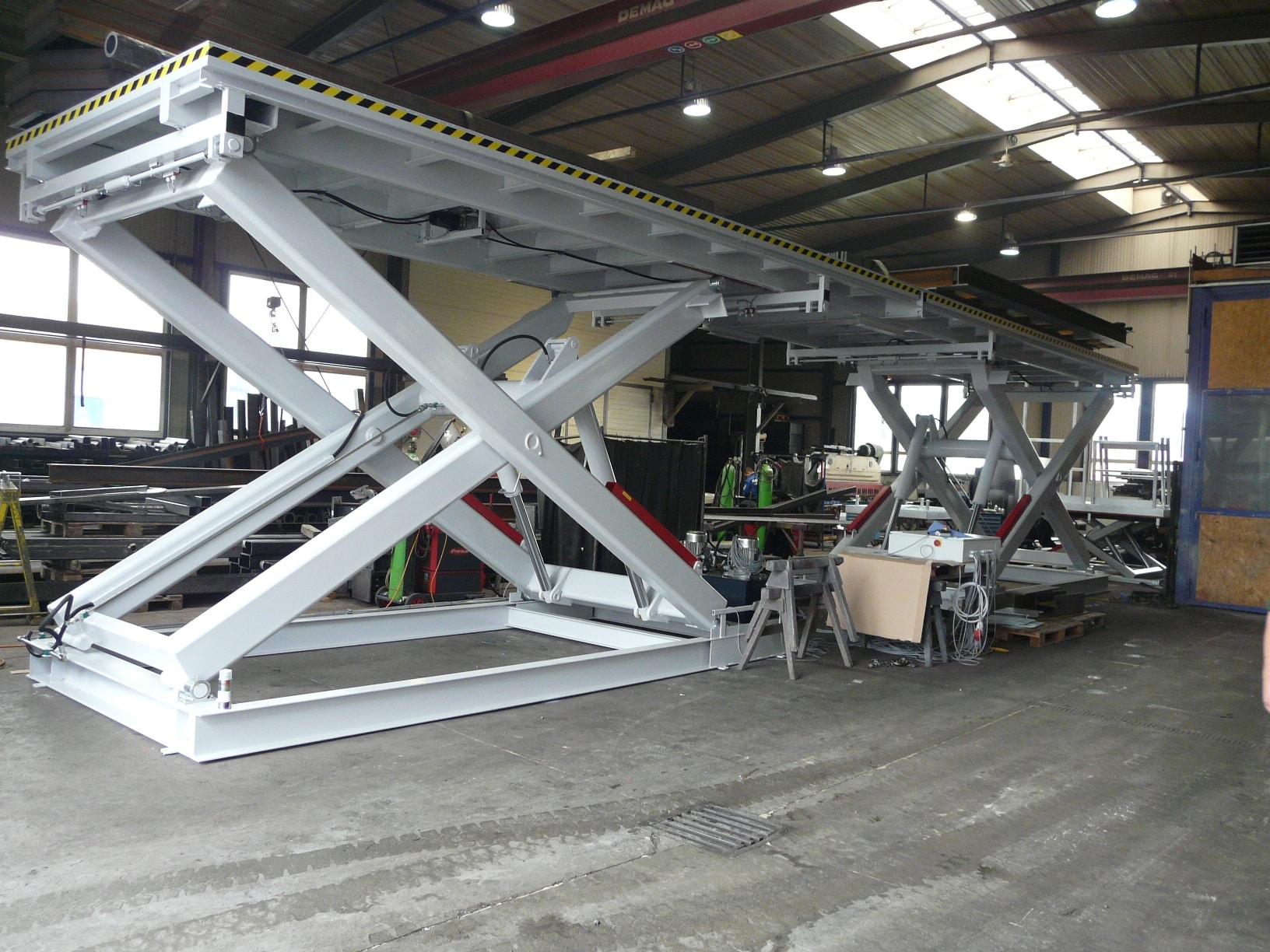 Superlative platform size
If it could be a little bigger...

The customer wanted an extremely large lifting table platform that still moves upwards evenly. Thanks to the tandem scissors and a flow divider, we were able to more than satisfy the customer.
If you have any questions, please contact us immediately Contact on. We are happy!